Lowering housing prices could spark crisis: Ko
The Taipei City Government yesterday expressed concern over the central government's policies aimed at lowering housing prices, saying the policies could precipitate a crash in the housing sector and spark an economic crisis.
During a special report on the city government's policies on public housing and preparations for the 2017 summer Universiade and the World Design Capital yesterday, Taipei City Mayor Ko Wen-je (柯文哲) said Taipei would not suppress housing prices because doing so could hurt the construction sector.
Previous policies aimed at encouraging joint-developed residencies to become public residential units were misdirected, as the average person considers jointly developed residencies more luxurious than normal residential units and thus not affordable, Ko said.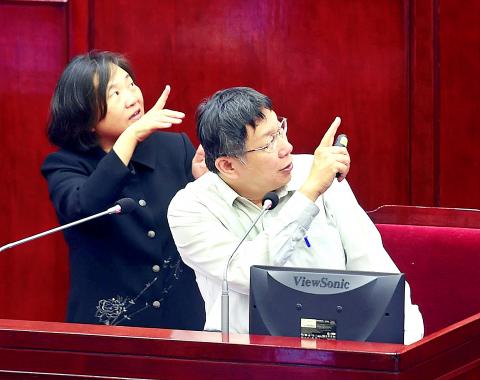 Taipei Mayor Ko Wen-je, right, points at a slide as he delivers a report on the Universiade, public housing and the city of design in the Taipei City Council yesterday.
Photo: Fang Pin-chao, Taipei Times
Regulations formerly restricted renting of these residential units to those who have less than 40 percent of that year's average annual income for city residents — the average for last year stood at NT$1.19 million (US$36,600).
The city government is looking to amend regulations to allow families with 50 percent of the average annual income to rent the units, Ko said.
Due to declining birth rates and high housing prices, the city government would look into the viability of repurposing empty public buildings into public residential units, Ko said.
Ko said his government hoped to make housing more affordable by building public residential units and subsidizing residents, adding that public residential units would not be filled with poor people and become squalid.
The city government is looking to spend NT$39.4 billion just to obtain the land and a further NT$102 billion in construction if it is to meet proposed policies of building 20,000 public residential units in four years, Ko said.
However, New Party (新黨)Taipei City Councilor Chen Yen-po (陳彥伯) said that many of Ko's proposed policies would be impossible without cash injections from the central government.
Ko replied that the city government would pay close attention to the self-liquidation ratios of public residential units and if need be, the city government would sell the units.
Ko also called on all three presidential candidates to clarify their stance on public housing.
Ko's rapid reversal on the issue of housing price suppression is raising some eyebrows.
Since Ko's election, he has implemented policies intended to suppress housing prices, beginning in May.
However, Ko now says that suppressing housing prices would seriously hurt the economy.
Comments will be moderated. Keep comments relevant to the article. Remarks containing abusive and obscene language, personal attacks of any kind or promotion will be removed and the user banned. Final decision will be at the discretion of the Taipei Times.