Mayor Ko receives warm welcome in Miaoli County
A recent string of controversies involving the Taipei City Government does not seem to have affected Taipei Mayor Ko Wen-je's (柯文哲) popularity, with the mayor receiving a warm welcome in Miaoli County yesterday.
Ko visited the county's Yuanli Town Triangle Rush Exhibition Hall, where he learned about the traditional craft of rush-weaving.
While Ko signed autographs and took photographs with residents, several people shouted: "Greetings to Mr President."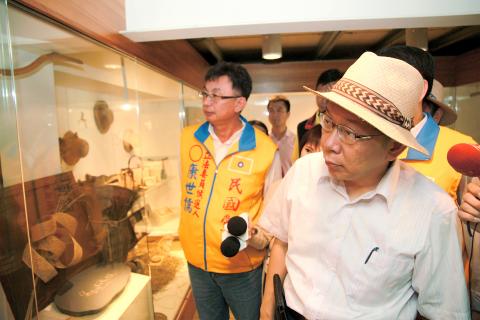 Taipei Mayor Ko Wen-je, right, looks at traditional rush-weaving works in the company of Republic Party legislative candidate Kang Shih-ju yesterday at the Yuanli Town Triangle Rush Exhibition Hall in Miaoli County.
Photo: Cheng Hung-ta, Taipei Times
When reporters asked him what his reaction was, Ko said nervously: "Don't ask me. Don't talk nonsense. Cut me some slack, will you?"
After touring the exhibition center, Ko underlined the importance of marketing strategies, which he said could help boost sales of rush-woven handicrafts.
"Manufacturing does not make money, but innovation and marketing can. These handicrafts would sell about twice as much if they were sold in the Songshan Cultural and Creative Park [in Taipei]," he said.
Ko said that he would discuss the possibility of promoting the handicrafts in Taipei with the Taipei Department of Economic Development.
"I think Taipei can be the 'window' to Taiwan. Frankly, I do not think foreign tourists visit this place very often, so, it is important to think about how to package them [handicrafts] nicely and market them widely," he said.
"I always say as a joke that the same product would sell for many times more if you put a Louis Vuitton logo on it," Ko said.
Since the beginning of last month, the mayor has been the focus of a string of controversies, most notably his pounding his fist on a table in anger at a city council meeting after a councilor made a provocative remark.
Comments will be moderated. Keep comments relevant to the article. Remarks containing abusive and obscene language, personal attacks of any kind or promotion will be removed and the user banned. Final decision will be at the discretion of the Taipei Times.