Divers remove fishing nets to save coral reefs
More than 20 amateur divers from Penghu, Taoyuan and Kaohsiung earlier this week joined an operation initiated by environmental group Island 77 to clear fishing nets on the ocean floor around Penghu to save coral reef habitats.
Island 77 founder Yeh Sheng-hung (葉生弘) said that bottom trawling by fishing boats operating in the region poses a serious threat to coral reefs and their inhabitants, and nets caught on the reefs had led to the fragmentation and loss of coral reefs.
Since 2000, the Penghu County Agriculture and Fisheries Bureau and the Penghu Zooxanthellae Association has organized divers to clear nets from coral reefs in the region, with the volume of nets cleared totaling more than 160,000m, according to the Penghu County Government.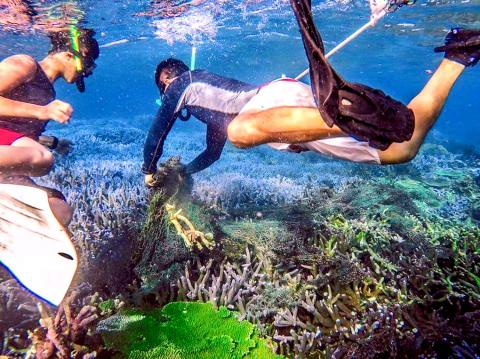 Two divers attempt to remove abandoned fish nets in waters off Penghu during an ocean floor cleaning campaign on Tuesday.
Photo: CNA
Tuesday's operation was a private initiative involving amateur divers, including coast guard officers, firemen and Penghu County Government workers. The divers cleared nearly 1km of nets from the coral reefs.
Calling on bottom trawling to stop in a region rich with coral reefs and for fishing boats not to dump damaged nets into the sea, the Penghu County Government said that, starting next year, a special budget would be set aside to clear the ocean floor in the region to protect the coral reef ecosystem.
Comments will be moderated. Keep comments relevant to the article. Remarks containing abusive and obscene language, personal attacks of any kind or promotion will be removed and the user banned. Final decision will be at the discretion of the Taipei Times.