FEATURE: More Taiwanese doing military service overseas
Teaching people in Africa how to take medicine properly and advising them to get tested for HIV are not the typical tasks young Taiwanese men perform when they serve their mandatory, typically one-year, military service after graduating from college.
Many Taiwanese are allowed to perform alternative military service by working in government offices as clerical staff, but for an increasing number of young men going to less-developed countries to help the people there is a preferred alternative to fulfilling their conscription in Taiwan.
Two Taiwanese who recently finished serving their alternative military service overseas said they learned a lot during their time in Burkina Faso and Belize respectively, and that those experiences have changed their plans for the rest of their lives.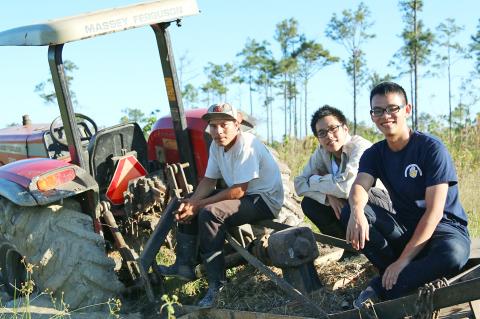 Robert Wang, center, takes a rest with farm workers in Belize on Aug. 29.
Photo: CNA
Instead of performing ordinary military service in Taiwan, Hung Sheng-kai (洪聖凱) and Robert Wang (王柏荃) were among the 86 Taiwanese sent overseas last year to help with Taiwanese foreign aid programs.
Taiwan has many programs to help its diplomatic allies in Latin America, Africa and the South Pacific.
Hung said that he chose to serve in Burkina Faso because he was inspired by the story of Lien Chia-en (連加恩).
Lien, a graduate of National Yang Ming University's medical school, is known for his work in Burkina Faso, including helping build wells and orphanages, during his military service in 2002.
Lien was among the first group of Taiwanese in the program, which was initiated by the Ministry of Foreign Affairs in 2001 to promote international youth exchanges and provide opportunities to cultivate talent for international cooperation projects.
Under the program, draftees who passed the selection process and had the desired skills were allowed to perform their military service overseas to help with Taiwan's technical and medical missions, or other aid programs.
Since it was launched, the program has seen more than 1,000 Taiwanese go abroad to provide assistance to people in the fields of agriculture, medical services and public health, among others, the ministry said.
Before departing, the recruits receive six weeks of training that includes courses on the language and culture of the country, said the Taipei-based International Cooperation and Development Fund, which is commissioned by the ministry to organize the pre-departure orientation.
With growing interest in the program, the number of spaces available each year has been gradually expanded, from 36 in 2001 to 86 last year.
After hearing Lien's story, 26-year-old Hung said he wanted to follow in his footsteps: enter a medical school and perform his military service in Burkina Faso to help the people there.
After graduating from Tzu Chi University's School of Medicine, he realized his dream when he departed for the African country in November last year.
Hung said the challenges he faced went beyond trying to help patients with the less-advanced medical equipment available.
While serving at a hospital in Koudougou, a city in central Burkina Faso, he encountered cases in which patients failed to take the prescribed medicine correctly because the literacy rate is low and many people could not read the instructions.
He started to ask his patients to come back to the outpatient clinic after obtaining the medicine from the pharmacy and he would explain to them how the medicine should be taken, to make sure they knew the dosage to take and how often they should take it.
Another unforgettable experience was when Hung told a local man he suspected that the man was HIV-positive.
Hung told the man, in the presence of his fiancee, that he might be infected with HIV and that further testing was needed. However, the man did not return for the tests, probably due to a sense of embarrassment, Hung said.
From that incident, Hung learned how to deal with similar cases in a way that avoided the risk of hurting patients' feelings or making them embarrassed.
"I should have told the man that he might be infected with the HIV virus while his fiancee was not present," he said.
Despite the hardships he encountered in a less-developed country, Hung was not deterred. His time in Burkina Faso sparked his desire to join Medecins Sans Frontieres and provide international humanitarian assistance to refugees and other people in need.
Wang, who obtained a master's degree in plant pathology and microbiology from National Taiwan University, also learned valuable lessons during his military service.
The 25-year-old was posted to the Central American country of Belize to help with a program to help combat citrus greening disease, which is caused by the Asian citrus psyllid.
The disease poses a grave threat to Central America's citrus industry and results in huge losses in the production of oranges, tangerines and other citrus fruits.
"I've learned a lot," Wang said of his time in the English-speaking country from November last year to last month.
It provided him with an opportunity to put what he learned at school into practice and to apply his knowledge to help local farmers grow healthy trees, he said.
Through working with local people on the program, he also learned to be patient with others when living in a country with a different culture, but the most valuable experience was, perhaps, the confidence he gained from living overseas, which gave him the courage to apply for a jobs with international firms that develop agricultural technology, such as Germany's Bayer AG.
Comments will be moderated. Keep comments relevant to the article. Remarks containing abusive and obscene language, personal attacks of any kind or promotion will be removed and the user banned. Final decision will be at the discretion of the Taipei Times.