Hung wants to help 'four pillars'
KEY PROFESSIONS: Hung Hsiu-chu said she has plans to improve working conditions for police, firefighters, teachers and nurses and she is focused on beating Tsai Ing-wen
Chinese Nationalist Party (KMT) presidential candidate Hung Hsiu-chu (洪秀柱) yesterday pledged to improve working conditions and benefits for police, firefighters, nurses and teachers.
Speaking at a news conference in Taipei, Hung said those professions are the pillars of the nation as Taiwan's economic growth is based on their contributions.
However, people in these professions routinely deal with poor work environments: police and firefighters often have to work overtime; qualified teachers languish unrecognized by schools and the number of patients each nurse has to look after keeps growing, degrading the quality of medical service, she said.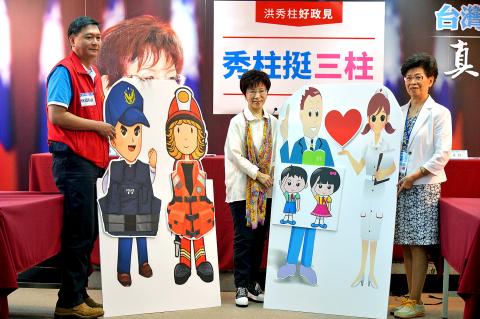 Chinese Nationalist Party (KMT) presidential candidate Hung Hsiu-chu, center, yesterday takes part in a press conference in Taipei where she promised to improve the working conditions and benefits for police officers, firefighters, teachers and nurses.
Photo: CNA
Police officers and firefighters face work-related health risks and often lack the proper gear and equipment, while police also face a "dignity crisis" because of lawsuits stemming from alleged excessive use of force or police powers during protests, Hung said.
To help police "reclaim dignity," she said she would introduce a "professional responsibility insurance system" to cover police officers' legal fees and indemnify any losses suffered by officers while performing their duties.
She also vowed to cut down on overwork by narrowing the scope of police and firefighters' duties, so that they can focus on maintaining social security and emergency response.
If elected, she would see that the central government set up a dedicated fund to cover costs of police and firefighter equipment, Hung said.
As for those in the teaching profession, she said that she would ensure that schools hire enough full-time teachers so that employment conditions conform to the National Education Act (國民教育法), raise substitute teachers' wages to equal those of full-time teachers, and have the central government cover the increased costs to schools.
Many municipalities are trying to cope with the nation's slumping birth rate by raising the number of slots for substitute teachers so they do not have to downsize the number of full-time faculty if the number of classes are reduced, Hung said.
This practice saves schools money, but exploits qualified teachers, who are forced to work as substitutes, as substitutes are paid much less and are often transferred across the nation to accommodate school plans, she said.
As for nurses, Hung said that she would cut the nurse-patient ration from 1:10 to 1:7 — which she said is the ratio in Japan — within two years and to 1:6 in four years, to improve both nurses' work environment and the healthcare system.
Asked by reporters about People First Party (PFP) Chairman James Soong (宋楚瑜) entering the presidential race, given that recent media outlet polls show just 1 percentage point difference in support between them, Hung said she still has her sights set on Democratic Progressive Party Chairperson Tsai Ing-wen (蔡英文), not Soong.
"One should always try to outperform the front-runner," the deputy legislative speaker said.
Comments will be moderated. Keep comments relevant to the article. Remarks containing abusive and obscene language, personal attacks of any kind or promotion will be removed and the user banned. Final decision will be at the discretion of the Taipei Times.