Penghu hopes movie will kickstart tourism season
Debuting on Friday last week across the nation, the Penghu County Government hopes the movie All You Need is Love (落跑吧愛情), with 98 percent of the film shot in the county, taking in the scenery of Qimei Island (七美), fishing villages and the required romance movie scene — sunset on a beach — can kickstart a dismal tourism season.
Penghu County Commissioner Chen Kuang-fu (陳光復) attended the premiere on Thursday last week in Taipei, before accompanying Penghu County Bureau of Education Director Hsu Wen-liang (許文喨) and Tourism Bureau Director Chen Mei-ling (陳美齡) to a screening at Zhongxing Theater in Penghu on Friday last week.
Owners of hostels in the county and Chuo Ying-chuan (卓英全) of the Ministry of Justice bought tickets for 248 students in Penghu's Baisha (白沙) and Siyu (西嶼) townships to view the movie.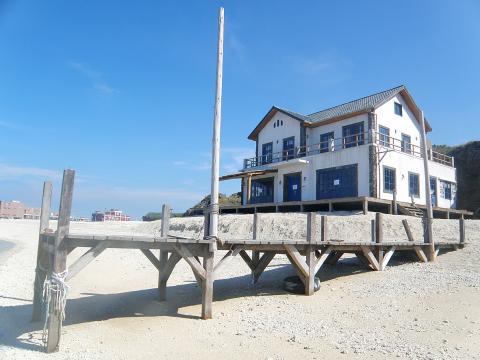 A building featured in director Richie Jen's movie All You Need is Love is pictured in Penghu County on Friday last week.
Photo: Liu Yu-ching, Taipei Times
"Penghu's natural scenery is world class, and the clear seawater, clean beaches, tasty and fresh seafood, all serve to augment tourists' enjoyment of the local scenery," Chen Kuang-fu said.
He said that with the movie screening in Taiwan, China and Malaysia, among other nations, "if the box-office sales are high, it would mean more people have seen what Penghu County looks like," adding that such an experience could motivate them to visit Penghu.
The movie, the first directed by pop star Richie Jen (任賢齊), stars Taiwanese actress Shu Qi (舒淇).
The plot revolves around a romance between A-wu (阿武), the son of a local hostel owner, and Yeh Fenfen (葉紛紛), the heiress to a fortune in China's Shanxi Province.
Comments will be moderated. Keep comments relevant to the article. Remarks containing abusive and obscene language, personal attacks of any kind or promotion will be removed and the user banned. Final decision will be at the discretion of the Taipei Times.