Yilan farmers protest regulations
UNHAPPY FARM: Farmers say regulations on building and trading farmhouses meant to curb real-estate speculation have damaged the value of their property
Thousands of farmers yesterday staged a rally in front of the Yilan County Government building to protest new regulations on the construction and trading of farmhouses, which they said have reduced transactions and damaged the value of their properties.
Led by local farmers' associations, the protesters said that the new farmhouse regulations announced by the county government in April, which stipulate that only farmers with more than two years of agricultural practice and farmers' insurance companies are eligible to construct farmhouses, was made without consulting farmers and the government has issued few to none construction licenses since April, resulting in stagnating farmland transactions and lower property values.
The protesters said that while they stood by the principle of reserving farmland solely for agriculture, they opposed any policy manipulation in the name of that principle, adding that farmers have devoted their lives to agriculture only to face an impoverished retirement because of a wrong-headed policy.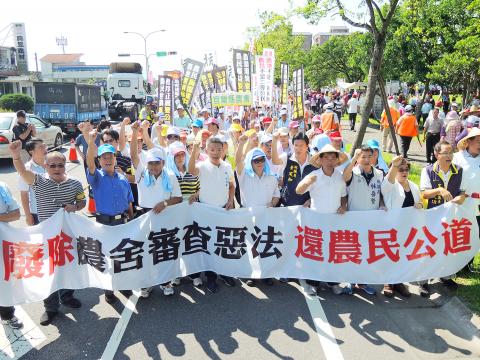 Members of Yilan County farmers' associations protest against new regulations on the sale of agricultural land for housing outside the Yilan County Government building yesterday.
Photo: Chiang Chih-hsiung, Taipei Times
Agriculture and Farmland Development Association founder Chiu Hsi-Kuei (邱錫奎) called on the county government to revoke the regulations and manage farmland and farmhouses according to the central government regulations so that Yilan farmers would enjoy equal rights with farmers in other cities and counties.
Chiu also called for a legislative review of the Regulations Governing the Building of Agricultural Houses on Agricultural Land (農業用地興建農舍辦法) issued by the Ministry of the Interior on Thursday last week, which stipulate that only farmers can construct farmhouses.
He said they would escalate their protests if their demands are not met.
Meanwhile, a group of agriculture activists also gathered at the county government building yesterday to call for an end to farmland speculation.
Yilan Guardian Workshop founder Lee Pao-lien (李寶蓮) said that farmers staged the protest because they were misinformed. He said the regulations allow farmers to freely buy and sell farmland and construct farmhouses, and only prevent property speculation by non-farmers.
The central government should take good care of farmers and ensure that they can achieve financial stability by establishing a system of marketing and distribution of agricultural products to boost farmers' income, so they do not have to sell their farmland to finance their retirements, he said.
Lawyer Thomas Chan (詹順貴) said that farmland has become a hot investment item since the government allowed non-farmers to purchase farmland, making people who would like to go into farning unable to purchase farmland at reasonable prices.
The most avid protesters against the new regulations are real-estate brokers and investors, Chan said.
Although there are nominally 810,000 hectares of farmland, only about 600,000 hectares of that is arable or actually used for farming, making food sustainability a matter of national security that the government has continually neglected, he said.
Comments will be moderated. Keep comments relevant to the article. Remarks containing abusive and obscene language, personal attacks of any kind or promotion will be removed and the user banned. Final decision will be at the discretion of the Taipei Times.