NPP candidate condemns nuclear waste plan
Nuclear power plants should not be directly converted into storage facilities for nuclear waste after being decommissioned, New Power Party (NPP) legislative candidate Huang Kuo-chang (黃國昌) said yesterday, condemning the Atomic Energy Council for issuing a permit to construct an on-site facility for storing waste from the Guosheng Nuclear Power Plant in New Taipei City's Wanli District (萬里).
The facility is to store the plant's nuclear waste for 40 years before it is transferred to a permanent depository, an important step as the 33-year-old facility nears the end of its 40-year life cycle.
Huang said the council was negligent in forcing through the project without consulting local residents.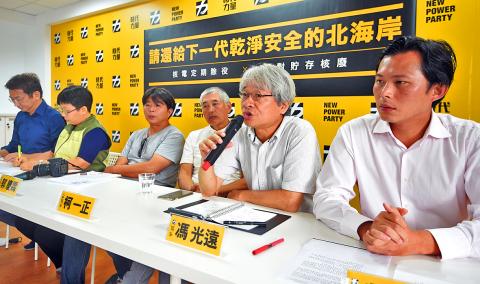 New Power Party legislative candidates Huang Kuo-chang, right, and Neil Peng, second right, among others, hold a press conference in Taipei yesterday, criticizing the government over its nuclear-waste handling policy.
Photo: Lo Pei-der, Taipei Times
"How to deal with nuclear waste and used fuel rods is a serious question that all Taiwanese have to face over the next few years," said Huang, the NPP's candidate for the legislative district encompassing the site.
"However, there was absolutely no civic review of the decision to issue the permit," he said.
Even though the facility was billed as "temporary," it could easily end up becoming the waste's permanent home unless a clear alternative long-term plan for the waste disposal is adopted, he said, calling for the establishment of a committee to allow residents, civic groups and academics to participate in decisions involving nuclear waste disposal.
There are concerns about the suitability of the site's geology, as well as whether the facility's open-air design would be able to provide an adequate guarantee against radiation leaks, Huang said.
While a previous plan to build a similar facility at the Jinshan Nuclear Power Plant in New Taipei City's Shihmen District (石門) was halted after the city government rejected a water and land preservation proposal, things are less clear this time around, he said, adding that New Taipei City Mayor Eric Chu (朱立倫) should provide an explanation.
"The council looks like it is trying to take advantage of the remaining time left in the administration of [President] Ma [Ying-jeou, 馬英九] to start construction of the facility as soon as possible, leaving a mess for the next administration to clean up," Huang said.
NPP legislative candidate Neil Peng (馮光遠), who is running in the district encompassing the Jinshan plant, reiterated demands that the facility be retired on schedule, citing safety issues that have forced operation of one of its two reactors to be shut down for more than 200 days.
A final decision on whether the plant's term will be extended is to be made in December.
Comments will be moderated. Keep comments relevant to the article. Remarks containing abusive and obscene language, personal attacks of any kind or promotion will be removed and the user banned. Final decision will be at the discretion of the Taipei Times.