FEATURE: Peaks seen as major attractions
UPWARD MOMENTUM: Three experienced climbers say Taiwan's mountain ranges should be seen as drawing cards for Japanese hikers and those from farther abroad
Mountaineer Lin Yi-hua (林乙華) has traveled to distant parts of the globe to explore some of the world's best-known mountain ranges. However, even after hiking and climbing in India, the Caucasus region, Kyrgyzstan, Argentina and South Korea, nothing mesmerizes her more than the peaks in Taiwan.
"When you're on the top of a mountain [in Taiwan], what hits your eyes instantly are layers and layers of volatile clouds," Lin said. "The spectacle sticks in your mind and lingers there even when you are scaling mountains overseas."
That sentiment has many in Taiwan hopeful that its mountains will become a draw for nature lovers and mountaineers from overseas.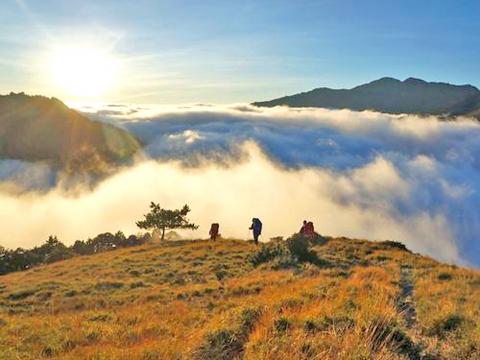 Clouds flow over the mountains of central Taiwan in an undated photograph provided by mountaineer Lin Yi-hua, whose company, Base Camp, provides professional guide services to amateur climbers.
Photo: CNA / Lin Yi-hua
Those who have already enjoyed high-altitude journeys have been impressed, said Lin, who runs a nature exploration company called Base Camp that provides professional guiding services to amateur climbers and hikers in Taiwan.
A mountain guide for 10 years, Lin said the most common response to mountaintop views she gets from foreign clients is an emphatic "wow."
There are plenty of vistas to choose from. Hills and mountains account for two-thirds of Taiwan's terrain, and the island has 200 mountains of more than 3,000m high. Many of its forests are pristine and have barely been explored.
Packed with ecological and biological diversity, the mountain ranges offer visitors different landscapes and climates within short distances when hiking from altitudes of 1,000m up to beyond 3,000m.
This incredible beauty and diversity might be a well-kept secret outside the nation, but it actually offers a unique experience that should be attractive to foreign visitors, said Pascale Schmied from Switzerland, who lived in Taiwan for seven years before returning home last year.
A hiking enthusiast, Schmied climbed 53 mountains more than 3,000m high while living in Taiwan.
In an interview last year, she said she found the "primitive state" of Taiwan's mountain ranges and forests "alluring," especially in contrast with her own country.
Given Switzerland's public transportation network and mountain infrastructure, it is easy for hikers there to locate villages offering cozy shelters and warm meals in mountainous terrains, Schmied said. Not so in Taiwan, which is part of its appeal, she said.
Chinese Taipei Alpine Association (CTAA) secretary-general Robert Song said outdoor enthusiasts from nearby countries, especially Japan, are attracted to Taiwan because the island has more tall mountains than Japan and its mountain ecology is more diverse.
There are also better and more challenging mountain hiking and river trekking opportunities available, Song said.
Lin added another factor: Colorful culture adds zest to natural settings.
Signs of human heritage, including Aboriginal communities scattered through the mountains and relics and old trails, some of which originated during the Japanese colonial period, bring the terrain to life, Lin said.
No statistics are available on the number of people who come from abroad to explore Taiwan's mountains, but Song said it is a few thousand, including about 300 Japanese and South Koreans who apply to the CTAA for mountain hiking tour services annually.
He said there is considerable potential for the numbers to go higher, because most people from abroad have only experienced developed national parks or the most popular mountain trails.
"There are vast mountain resources in Taiwan that have yet to be developed or considered for tourism," he said.
However, several barriers exist to turning Taiwan's majestic peaks into draws.
The permit system for access to protected areas of national parks is complicated at times and can make it difficult for people to make plans.
There is also a lack of mountain huts in most mountain areas outside the well-managed national parks to provide shelter to hikers wanting a rest or seeking shelter from sudden weather changes, Lin said, and the few that exist are mostly simple sheds without even toilet facilities.
Language can be a barrier affecting foreigners because there is little English-language information on most of Taiwan's mountain trails, the 41-year-old Lin said.
Lin and Song agree that Taiwan's mountains have not been systematically managed since Japanese colonial rule ended in 1945, but they also believe that mountains and forests are unpolished gems with plenty of potential in the tourism market.
What makes mountains and forests valuable is their primitive state, Lin said.
"The era of geographic exploration might have passed, but the exploration of nature's face will never end," she said.
Comments will be moderated. Keep comments relevant to the article. Remarks containing abusive and obscene language, personal attacks of any kind or promotion will be removed and the user banned. Final decision will be at the discretion of the Taipei Times.