Collectors snap up WWII commemorative stamps
A set of four stamps featuring images of wartime scenes and celebrations marking the surrender of Japan, along with a set of coins issued by the central bank to commemorate the 70th anniversary of the end of the Second Sino-Japanese War, have become popular among collectors, a local stamp collectors club said.
The eight-year war was a part of World War II, in which Japan and the other Axis powers were defeated by the Allied powers.
On July 2, the central bank issued 20,000 sets of limited-edition commemorative coins, with each set containing a NT$50 coin and a NT$20 coin. The combined value of the two coins — NT$70 — implies the 70th anniversary of the victory over Japan.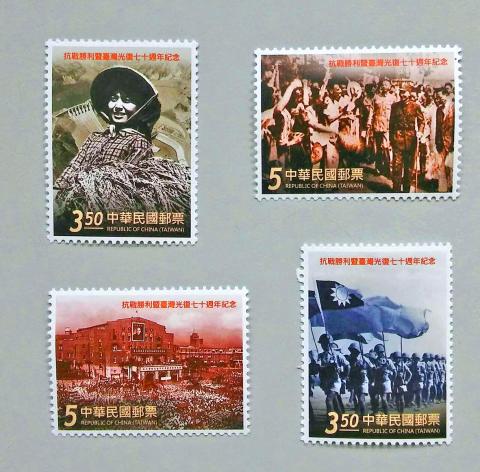 Stamps marking the 70th anniversary of the end of World War II are pictured on July 7 in Taipei.
Photo: CNA
Costing NT$400 per set, the commemorative coins have proved popular among collectors and Chinese tourists.
Featuring images provided by Academia Historica and the Central News Agency, the commemorative stamps depict themes such as youth volunteers in the anti-Japanese resistance, Chiang Kai-shek's (蔣介石) speech marking Japan's surrender and Taiwanese rural scenes in the early 1960s.
In related news, descendants of German businessman John Rabe and US missionary Minnie Vautrin, who made significant contributions during World War II, are in Taiwan to attend events in commemoration of the end of the war and to highlight the importance of peace.
Rabe and Vautrin were among the foreign nationals who helped create a safety zone in Nanjing in 1937 when the city — then the capital of China — fell to Japanese troops.
The zone provided shelter for more than 200,000 civilians and prevented them from being killed by the Japanese army.
The government invited Rabe's grandson Thomas and Vautrin's great-grandniece Cindy to attend the World War II commemorative events, including historical exhibitions showcasing documents on the war.
The two visitors are wrapping up their visit to Taiwan today.
Comments will be moderated. Keep comments relevant to the article. Remarks containing abusive and obscene language, personal attacks of any kind or promotion will be removed and the user banned. Final decision will be at the discretion of the Taipei Times.