Man finds inspiration in combining martial arts, metal sculpting
While it would seem that metal sculpting and martial arts do not mix, martial arts practitioner Hsieh Chien-lin (謝建霖) has succeeded in bringing the two together through sheer interest.
Born and bred in Taichung's Fongyuan District (豐原), the 62 year-old Hsieh said that the practice of martial arts is a long family tradition, with his ancestors having served as soldiers for warlord Cheng Cheng-kung (鄭成功), or Koxinga, in the 17th century.
By the time he was 20, Hsieh had already won numerous martial arts competitions.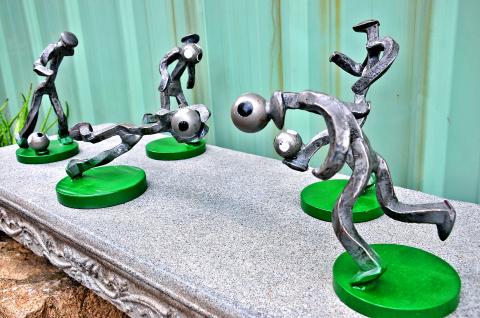 Scultptures of soccer players made of railroad rivets by Hsieh Chien-lin are displayed in Taichung on Thursday.
Photo: Li Chung-hsien, Taipei Times
He later moved to China, where he started a car factory, but in 1998 found that he could no longer compete with local Chinese manufacturers. He closed his factory and returned to Taiwan.
Taichung was then starting to build the Tanyashen Bicycle Path, from Tanzih District (潭子) and stretching west to the Cingcyuangang area (清泉崗), and the Taiwan Railways Administration had to tear down feeder lines crossing the intended area, Hsieh said.
Having grown up near the tracks, Hsieh said he has always had a fascination with railway tracks. When he heard that the lines were to be removed, he came up with the idea to use the railway rivets to sculpt metal figures.
Hsieh put the project on a five-year hiatus after he made his first figure, but later rekindled his interest in the project.
According to Hsieh, he only gets one chance with each rivet, which he heats to 300°C before twisting it into shape.
Pointing to his most prized work, titled In Thought (沉思), Hsieh said that he had to focus his energies when creating his figures because that is the only way they can look "alive."
Otherwise, In Thought would simply be "dozing" (打瞌睡), Hsieh said, adding that if that was the case, the spirit would be quite far from the intended one.
Hsieh said that he has progressed from his original 30 percent failure rate to 1 percent, adding that he has melted all the failed pieces into other works.
Creating the figurines is a hobby, an outward reflection of his inner creativity, and he does not intend to make a profit from them, he said.
He said he would be exhibiting his art next year at the Dadun Cultural Center in Taichung.
Comments will be moderated. Keep comments relevant to the article. Remarks containing abusive and obscene language, personal attacks of any kind or promotion will be removed and the user banned. Final decision will be at the discretion of the Taipei Times.