Groups urge hike to minimum wage
RAISING THE STAKES: Taiwan Labor Front secretary-general Son Yu-liam said that a wage of NT$26,000 was 'reasonable' and could sustain a basic standard of living
Labor and other civic groups yesterday demanded a large increase in the minimum wage and urged the Ministry of Labor to live stream its upcoming minimum wage review meeting on the Internet so that the public can monitor its discussions.
"We specifically demand that the minimum wage level this year be adjusted to NT$26,000 per month and NT$161 per hour," Taiwan Labor Front secretary-general Son Yu-liam (孫友聯) told a news conference in Taipei.
He said the figures were calculated based on international standards and represent the amount that the groups believe is necessary sustain a basic standard of living.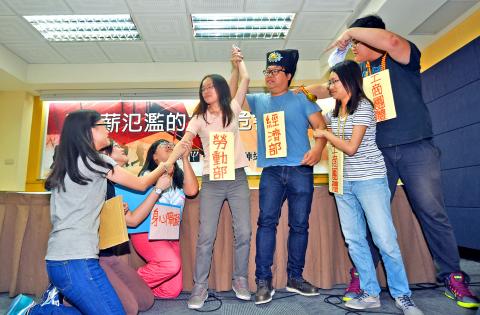 Members of labor and civic groups yesterday perform a skit at a news conference in Taipei to back calls for a minimum wage of NT$26,000.
Photo: Lo Pei-der, Taipei Times
The minimum wage was most recently adjusted on July 1, when it was raised by 3.81 percent to NT$20,008.
The minimum hourly wage was also increased to NT$120.
Asked if NT$26,000 is a realistic figure, Son said it is a "reasonable" amount.
The ministry's minimum wage review committee is scheduled to meet today to discuss the possibility of a further 1.5 percent minimum wage hike.
Son said that a 1.5 percent increase is unacceptable and that if it is the final outcome, he would urge laborers to give the ruling party a "slap in the face" in January's elections.
According to a recent article by the Chinese-language Economic Daily News, Chinese National Federation of Industries chairman Rock Hsu (許勝雄) said a minimum wage hike at this time is irrational, given the current economic slowdown, adding that it would harm small and medium-sized enterprises.
Hsu cited declining exports and their adverse effects on earnings as factors that suggest now is not the right time for a minimum wage adjustment.
In response to concerns from business groups, Democratic Progressive Party Legislator Cheng Li-chiun (鄭麗君) said the government should approach economic development with a new mindset.
Raising the minimum wage could boost domestic demand, reduce reliance on exports and spur industrial upgrading, said Cheng, who is also chief executive of the Youth Synergy Taiwan Foundation.
"We demand that the review committee be open and transparent, and stream their meeting online so that the public can participate in and monitor [the meeting]," Cheng said.
Comments will be moderated. Keep comments relevant to the article. Remarks containing abusive and obscene language, personal attacks of any kind or promotion will be removed and the user banned. Final decision will be at the discretion of the Taipei Times.