FEATURE: 'Granny Chi' inspires with love of nature and music
For 41 years, Chi Shu-ling (紀淑玲) has taught at the Ping Deng Elementary School in the mountains of Taipei's Shilin District (士林). The natural surroundings of the "rural" school might drive other would-be teachers away, but this environment has been her greatest inspiration.
When asked why she came to the elementary school, Chi laughingly said that the school was in the back of her mind because of her teacher's warnings when she graduated 41 years ago.
"She said it was in a far-off mountainous area with no transportation, and driving as close to the school as possible, the teachers would need to walk another hour to get to the school itself," Chi said, adding that as she was fond of hiking and loved the out-doors, she made it her first choice of schools after she visited on the eve of her graduation.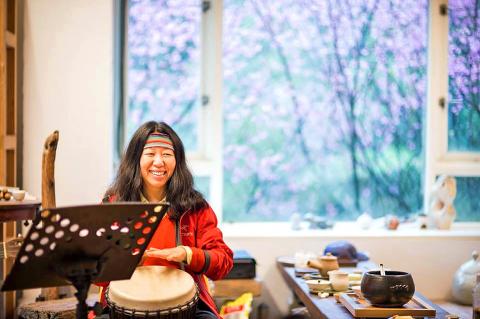 Chi Shu-ling, a composer and music teacher at Taipei's Ping Deng Elementary School, plays a drum on July 31 in Taipei.
Photo provided by Chi Shu-ling
Days spent on the surrounding Ewei Mountain (鵝尾山) were "the happiest days of my life," Chi said.
Aside from bringing her joy, the natural surroundings inspired her creative talents, culminating in her first Hoklo (commonly known as Taiwanese)-language album, Dreams of Ewei Mountain (鵝尾山的眠夢).
The first song on the album, Tell Me Why, Dragonfly (問田蠳), is based on the the city government's decision to seal a local irrigation ditch near the elementary school to widen the roads.
Chi said the ditch was an important place for her because she felt free and was able to empty her mind while walking alongside it. The sealing of the ditch was why she had taken to walking along other ditches in the mountains to help find inspiration.
Other songs are also based on nature, such as The Purely Weelstamen Forest (昆欄純林), which is about a tree — said to have existed since the age of dinosaurs — being the greatest sight on Qising Mountain (七星山). The song Flowers of June (六月的花) was intended as a graduation song based on the flowers of the Formosan acacia.
Not only has Chi taken inspiration from her natural surroundings — which also led to her writing a song nominated for a Golden Melody Award — she has also focused on fostering the talents of children.
Taking the children out in nature to understand the land, she encourages them to write their own songs about nature and the majority of them are written in the Hoklo language.
"In nature, one is able to see the teeming of life in the flora and fauna and it is a moving sight, as well as a comfortable environment in which to relieve stress and provide inspiration for creativity," Chi said.
Commenting on the use of Hoklo as her main language of composition, Chi said: "Hoklo is my mother tongue, of course I would use it in my compositions."
Perhaps Chi has rubbed off on the students more than she realized, as many past students have come to deeply love nature and look back on their elementary-school memories with fondness.
"For them, returning home is always an event that brings happiness and relaxation," Chi said, adding that some of the students have gone on to study Taiwanese culture, language and literature at various universities and in their spare time to participate in glove puppetry performances at the elementary school.
Known as Ms Chi when she first started and now affectionately referred to as "Granny Chi," she said that music has always been an important medium of communication for her.
"It allows you to communicate your inner thoughts with others," Chi said.
Her love for music and nature, her insistence on using her mother tongue in her composition and her willingness to experiment with different elements of music has contributed to the unique quality of her melodies and Chi said she would continue to create and compose.
Comments will be moderated. Keep comments relevant to the article. Remarks containing abusive and obscene language, personal attacks of any kind or promotion will be removed and the user banned. Final decision will be at the discretion of the Taipei Times.