Cultural affairs head panned by preservationists
Taipei Department of Cultural Affairs Commissioner Ni Chung-hwa (倪重華) should be "flunked" for failing to preserve historical sites, the Taipei Cultural Heritage Preservation Alliance said yesterday.
Representatives from alliance's 16 member groups protested outside Taipei City Hall, condemning what they said was inaction or disappointing decisions by the department on a range of historical sites, including Jiahe New Village (嘉禾新村), the Wenmeng Building (文萌樓) and the old Xinbeitou (新北投) train station.
"Although Ni pretends to be a good friend to civic groups, his private and public faces are completely different," Jiahe Studio spokesperson Yu Liang-kuei (郁良溎) said. "His Cultural Preservation Committee has continued the opaque 'black-box' system and he has failed to proactively defend cultural heritage sites."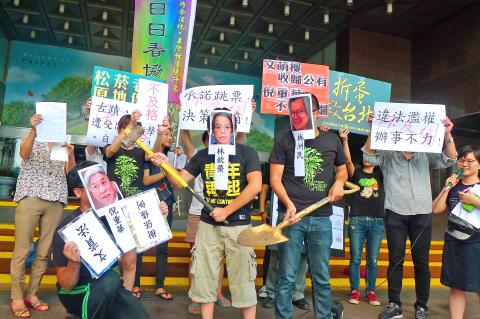 Representatives from the Taipei Cultural Heritage Preservation Alliance protest outside Taipei City Hall yesterday.
Photo: Yu Pei-ju, Taipei Times
The protestors cited several issues, including reconstruction plans for the old Xinbeitou station, broken promises to cancel a road through the Nangang Bottlecap Factory, failure to preserve the Jiahe New Village in its entirety, as well as inaction on the Wenmeng Building.
The department has failed to act as an effective check against the Taipei Department of Urban Development in protecting sites of old houses from being incorporated in public housing construction plans, they said.
Giving Ni failing grade plays off a promise by independent Taipei Mayor Ko Wen-je (柯文哲) to allow labor unions and business associations to assign grades to the commissioners of the city's labor and economic development departments.
The groups called for Ko to hold regular meetings with cultural heritage groups, similar the meetings with business group representatives that were announced this week.
"There is no way Taipei can be like Kyoto [in Japan] and completely preserve its old architecture," Ni said.
The city has to merge old and new, he said.
While he would receive an "A+" from groups if he agreed to provide full official protection to every proposed site, that would not accurately represent the full range of his responsibilities, he said.
Comments will be moderated. Keep comments relevant to the article. Remarks containing abusive and obscene language, personal attacks of any kind or promotion will be removed and the user banned. Final decision will be at the discretion of the Taipei Times.