Former gambler inspired by music
A gambling addiction, as well as the loss of his loved ones and his job, plunged taxi driver Tang Hai-lung (唐海龍) into depression, but he turned to his love of music to pay off his debts and get his life back on track.
Tang said that it was only through listening to Jiang Yu-heng's (姜育恆) A Lonely Journey (孤獨之旅) that he restored his confidence in life and was inspired to change to his lifestyle.
The 50 year-old said that he had been forced to start work at a very young age after losing his father when he was five years old, but he had to quit after sustaining wrist injuries caused by glass shards following an altercation at work.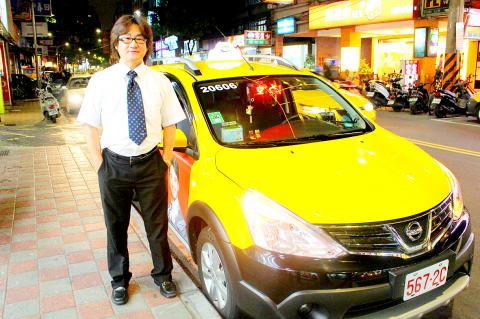 Former gambling addict and taxi driver Tang Hai-lung stands next to his taxi in Taipei on May 17.
Photo: Kuo Yi, Taipei Times
Tang said that it was at this point that he heard Jiang's song, with the lyrics "I have walked many miles and smashed endless beautiful dreams, only to know the vicissitudes of life must be experienced by themselves."
Tang said the song awoke something in him and prompted him to learn the guitar after his wounds healed.
He purchased many cassettes to help with the endeavor, adding that he had later successfully auditioned to become a resident singer at a Western-style restaurant.
However, Tang's luck did not last and he was soon embroiled in a crisis when his family's pawn shop was facing difficult times as his second-eldest brother, who had taken over the reins of the family business, had started gambling.
Other family members asked Tang to persuade his brother to stop gambling, but instead he had started gambling himself.
"I was millions in debt," Tang said, adding that he had started driving a taxi to help augment his income and pay back his debts.
It was at this point of his life that he once more turned to Jiang's song, Tang said, adding that it kept him strong and helped him clear his debts.
Three years ago, Tang admitted that the music within him stirred once more and he decided to invest hundreds of thousands of dollars of his savings to record a song which he had composed, A Song on Life (人生的歌).
Tang said he posted the song on YouTube and it received a lot of views, adding that he hoped that lyrics such as: "Let us together take life's journey, without fear of danger, without fear of difficulties, for they are necessary trials," would help others to be strong and when facing life's difficulties.
Tang, who still works as a taxi driver in Taipei, primarily at night, said he hopes his songs relay to others the will to swim against the tide, and to realize and cherish the value of life, especially in times of difficulty.
Comments will be moderated. Keep comments relevant to the article. Remarks containing abusive and obscene language, personal attacks of any kind or promotion will be removed and the user banned. Final decision will be at the discretion of the Taipei Times.