Do not reprocess nuclear waste abroad, groups urge
Ahead of a legislative plenary session to discuss funding requested by state-run enterprises, a coalition of civic groups yesterday rallied outside the legislature in Taipei to protest against Taiwan Power Co's (Taipower) plan to reprocess nuclear waste overseas, for which the firm has issued an online call for bids and requested a budget of NT$11.25 billion (US$359.4 million).
Taipower late last year proposed a pilot project to send 1,200 fuel bundles from the Jinshan and Guosheng nuclear power plants in New Taipei City abroad for reprocessing.
Yesterday's protesters included members of Green Citizens' Action Alliance; Citizen of the Earth, Taiwan; and Taiwan Environmental Protection Union Northern Coast branch, who called on legislators to reject Taipower's budget proposal.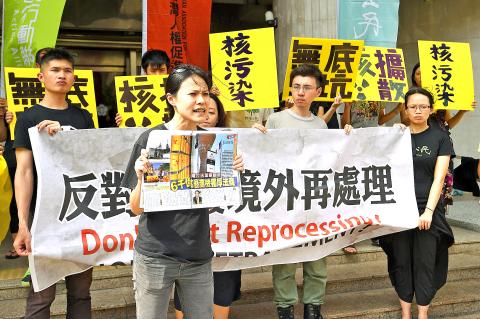 Members of various environmental groups yesterday rally outside the Legislative Yuan in Taipei to protest against the reprocessing of nuclear waste materials.
Photo: Chen Chih-chu, Taipei Times
Green Citizens' Action Alliance researcher Hsu Shih-ya (徐詩雅) said the nation's plan to manage nuclear waste has sparked international concern, which has caused her organization to be inundated with letters from international environmental groups and nuclear engineering associations.
Quoting French nuclear safety expert Yves Marignac, who gave a speech in Taipei about overseas nuclear waste reprocessing, she said that the international community stopped using the method for more than a decade ago.
According to Marignac, an advisor for the French Nuclear Safety Authority, the French parliament is reviewing a bill stipulating that reusable radioactive materials separated during reprocessing be treated as nuclear waste.
Under the law, all remnants of nuclear waste, including plutonium and uranium, generated by reprocessing firms must be shipped back to the waste's country of origin, meaning that Taiwan would still have to store nuclear waste after it is reprocessed, Marignac said.
Hsu said that Taipower officials last week publicly admitted that the company has only contacted French nuclear-waste processing firm AREVA and has not yet initiated talks with French authorities about its plan.
She said history has shown that countries that rely on nuclear-waste reprocessing often face increasing costs from overseas service providers, which would entail a heavier financial burden than envisaged by Taipower.
An open letter delivered last week by the International Panel on Fissile Materials to the Executive Yuan last week, titled "Call for Taiwan Not to Send its Spent Fuel Abroad for Reprocessing," echoed Marignac's views that the Taipower plan would only delay nuclear-waste disposal.
"The solidified radioactive waste from reprocessing spent fuel would be returned to Taiwan after perhaps 20 years. The radioactive waste would be no less of a problem than the original spent fuel," the letter said.
It says that within the context of Taiwan's Agreement on Nuclear Cooperation with the US, Taipower could not take back the plutonium extracted from the spent fuel, as plutonium is used in the making of nuclear weapons.
Consequently, the company would have to pay a third party to dispose of plutonium separated during reprocessing, it said.
The letter was cosigned by former chair of the UK Government's independent Committee on Radioactive Waste Management, Gordon MacKerron; former vice chair of the Japan Atomic Energy Commission Tatsujiro Suzuki; Marignac and Frank von Hippel, former assistant director for national security at the US' White House Office of Science and Technology Policy.
Comments will be moderated. Keep comments relevant to the article. Remarks containing abusive and obscene language, personal attacks of any kind or promotion will be removed and the user banned. Final decision will be at the discretion of the Taipei Times.