Taitung adds nets to macaque controls
MONKEYS AMOK: Farmers are 'simple folk' who do not understand new regulations on killing the protected primates, a Chinese Nationalist Party (KMT) councilor said
In a bid to protect Formosan rock macaques and placate farmers losing produce to the animals, the Taitung County Government plans to invest NT$40 million (US$1.31 million) over four years to set up nets around farms and fields.
However, Taitung County councilors Chang Wan-sheng (張萬生) and Liu Chun-ko (劉純歌) of the Chinese Nationalist Party (KMT) said the county government should appeal to the central government to let local governments limit macaque populations.
Formosan rock macaques are a protected species in Taiwan, with a nationwide population of about 250,000.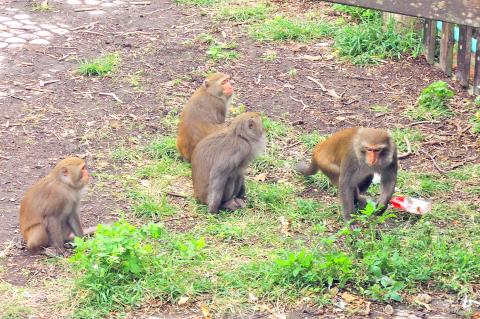 A troop of Formosan macaques forages in a field in Taitung County on Wednesday last week.
Photo: Chang Tsun-wei, Taipei Times
While macaques are most numerous on the east coast, increasing reports show that macaques are "crossing the borders" into valley areas and significantly harming fruit production, Chang said.
While farmers could chase off the monkeys once or twice, they cannot guard their fields all the time, Chang said.
Though the lives of animals are important and the macaques are protected by law, the government must clarify its stance on who deserves protection when it comes to conflict between people and monkeys, Liu said.
While the government said that farmers are allowed to kill macaques to protect their agricultural products, it also stipulated that farmers should not kill indiscriminately, Liu said, adding that farmers were "simple folk who do not understand the difference."
They are afraid to kill macaques for fear of being prosecuted, Liu said, adding that the county government should appeal to the central government for the power to create rules to control macaque populations after certain periods of time have passed.
County government Department of Agriculture Director-General Hsu Jui-kui (許瑞貴) said that a preliminary census estimated total macaque population in the county at 20,000 to 30,000.
Council of Agriculture regulations permit farmers to kill macaques if the monkeys have harmed produce, Hsu said.
The Council of Agriculture last year amended Article 21 of the Wild Animal Protection Act (野生動物保育法) to allow farmers a "self-defense" option if their produce or their lives are endangered by macaques.
The regulations allow for some leeway in determining the causes of death of macaques found in orchards or residences, Hsu said.
However, the county government would not condone the hunting of macaques for food or sport, Hsu added.
The county government consequently budgeted NT$40 million to establish nets in areas with severe produce damage from macaque activities, Hsu said.
Donghe Township (東河) is to be the first township to receive the protective measures, he added.
Comments will be moderated. Keep comments relevant to the article. Remarks containing abusive and obscene language, personal attacks of any kind or promotion will be removed and the user banned. Final decision will be at the discretion of the Taipei Times.