Center assists all, furred or feathered
ADOPTIONS AVAILABLE: Most animals in New Taipei City's shelters have been rescued, an official said, while the city's sole animal aid center patches up the injured
The only animal medical aid center operated by the New Taipei City Animal Protection and Health Inspection Office in the greater Taipei region saved 890 animals last year, ranging from stray dogs and eagles to pheasants and Formosan rock macaques, it said.
More than 3,448 animals were reported as injured last year, with 890 sent to the center for treatment, the office said, adding that its successful treatment rate is 80 percent.
Most of the animals were injured by cars, the center said.
A veterinarian at an animal aid center in New Taipei City examines an X-ray image on May 1.
Photo: Chen Wei-tsung, Taipei Times
The center hosts facilities rivaling some of the best veterinary clinics in the nation, including operating tables, an X-ray machine and recovery rooms, it said.
Veterinarian Lee Chien-pei (李建沛), one of two on staff, said that the center had once saved a Formosan rock macaque that had been severely injured when fighting for dominance in the troop.
It was difficult, as the macaque was very aggressive, fighting being placed into a cage, for example, Lee said.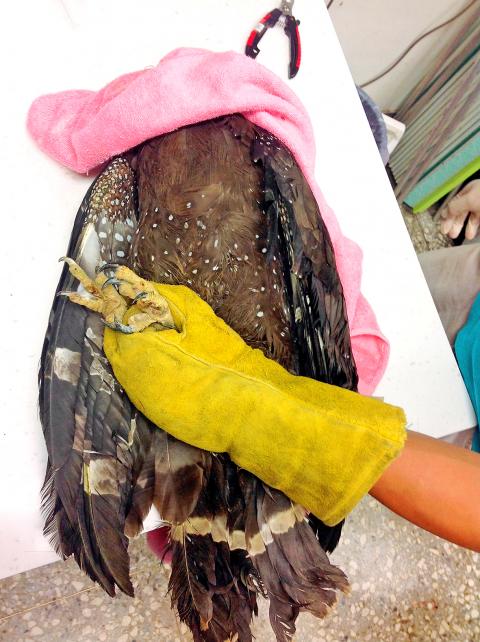 An eagle lies on an operating table at an animal aid center in New Taipei City on May 1.
Photo: Chen Wei-tsung, Taipei Times
Afterward, the center scanned the macaque for a concussion before beginning an operation to reattach its arm.
In another incident, the center saved a mixed-breed dog in New Taipei City's Jhonghe District (中和) that had been run over by a car, Lee said.
Due to a severe joint dislocation, it took the center five hours to manipulate the dog's femur back into place in an operation that is not common even at veterinary clinics.
The city government's Agriculture Department Director Liao Jung-ching (廖榮清) said 44 workers from nine animal shelters handled all animal rescue cases across the entire special municipality, adding that the fire department or nighttime veterinary clinics handled rescues after midnight in urban areas and after 6pm in rural areas.
Most of the stray animals in the nine shelters have been rescued or saved, Animal Protection and Health Inspection Office Director Chen Yuan-chuan (陳淵泉) said, adding that the percentage of animals brought in by municipal residents was actually on the low side.
There are times when the center fails to save an animal, but it is not due to a lack of effort on the veterinarians' part, Chen said.
Chen said that since New Taipei City implemented its "zero euthanasia" policy, the monthly adoption rate has increased to 80 percent, adding that the various shelters house about 1,400 stray cats and dogs.
Chen urged municipal residents to consider adopting animals, rather than buying pets, to offer these animals a new home.
Comments will be moderated. Keep comments relevant to the article. Remarks containing abusive and obscene language, personal attacks of any kind or promotion will be removed and the user banned. Final decision will be at the discretion of the Taipei Times.