Religious group blasts support for gay rights
'HIGHLY CONTAGIOUS': The Alliance of Religious Groups for the Love of Families Taiwan said that homosexual behavior is similar to using drugs
A conservative group yesterday crtiticized the Ministry of Education over a statement published on its Web site that commemorated the International Day Against Homophobia and Transphobia.
The ministry urged schools and educators to prevent bullying based on gender or sexual orientation, calling on schools to strictly abide by the Gender Equity and Education Act (性別平等教育法) and fight discrimination.
The ministry's statement drew heavy criticism from the Alliance of Religious Groups for the Love of Families Taiwan, which said that government support for gay issues could negatively affect character development among the nation's younger generation.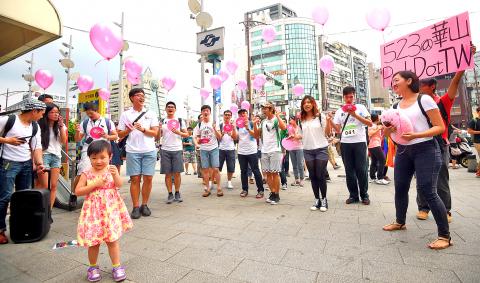 National Taiwan University cultural equality workshop participants hand out pink balloons in Taipei's Ximending area yesterday to mark International Day Against Homophobia and Transphobia as well as to promote a Pink Dot TW event, which is to be held at Huashan Creative Park on Saturday.
Photo: Wang Min-wei, Taipei Times
Led by a coalition of Christian groups, the alliance has spearheaded a string of rallies and lobbying campaigns against legislative efforts to legalize same-sex marriage since 2013.
In a statement issued yesterday, the alliance cited statistics that showed a 50 percent rise in "homosexual behavior" among teens in the US state of Massachusetts after same-sex marriage was legalized in the state in 2004.
"We can thus derive that homosexual sexual behavior is like drug usage, being highly contagious, enticing children and teenagers to imitate, learn and attempt [such behavior]; with many teenagers being seduced by homosexuals after experiencing failures in heterosexual relationships," the alliance said.
The alliance also decried the ministry for what they said was a "conflation between homosexuals and homosexual behavior," saying that the alliance supports the basic rights of Lesbian, Gay, Bisexual and Transsexual people, but refuses to condone "homosexual activities."
"The alliance is caring and full of love toward homosexuals. We are not homophobic or anti-homosexual, neither do we detest homosexual people; we are rather against the advocacy, promotion or public performance or homosexual behavior," the statement said.
"In regards to the homosexual problem, the fundamental attitude of the majority of people is disgust toward homosexual behavior and its proliferation, rather than fear or hatred toward the homosexuals themselves," the alliance said, adding that the ministry's caution against homophobia was misguided.
The alliance stated that the Gender Equality Education Act (性別平等教育法) was established to address tensions between male and female students and condemned the ministry for using the act to enact "partial policies that protect homosexuals."
"Homosexuals are misguided in their partners for sexual behavior; the issue has no inherent connection with gender or gender equality," the statement said, adding that the ministry had wrongly interpreted the act.
Comments will be moderated. Keep comments relevant to the article. Remarks containing abusive and obscene language, personal attacks of any kind or promotion will be removed and the user banned. Final decision will be at the discretion of the Taipei Times.