Team calls on public to help assist with trapped kitten
The Animal Rescue Team Taiwan yesterday called on the public to help rescue a two-month-old kitten that has been trapped for a week in an abandoned pipe in New Taipei City's Shulin District (樹林).
Team director-general Juan Mei-ling (阮美玲) said that when she arrived at the site a week ago after being notified about the situation, there were five cats, one mother and four kittens, trapped in the pipe.
The mother and three of the kittens were extracted using string attached to the end of a stick, but attempts to rescue the fourth kitten were unsuccessful because it was deeper in the pipe, Juan said.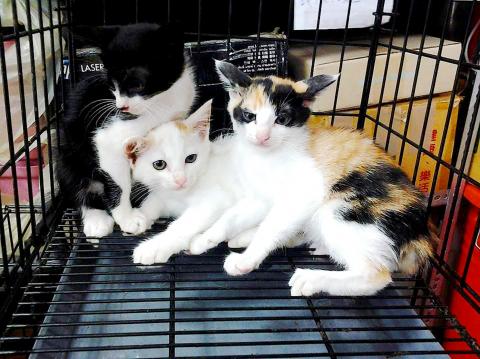 Three kittens sit in a cage in an undated photograph after being rescued from an abandoned pipe in New Taipei City's Shulin District.
Photo provided by the Animal Rescue Team Taiwan
Juan said she tried every method she could think of, including using sticks and glue traps, to no avail, adding that she had even bought a 5m-long drain camera worth NT$10,000 to try and see exactly where the kitten was in the pipe.
However, the pipe is deeper than the camera could extend and after days of attempted rescues, the team had run out of ideas, she said.
New Taipei City Government Animal Protection Agency director Chen Yuan-chuan (陳淵泉) on Thursday visited the site and tried to rescue the kitten by breaking through the concrete exterior of the pipe with no success.
Chen said he had never experienced such a difficult situation, but promised to keep thinking about how to rescue the kitten.
Officials from Taiwan Power Co (Taipower) also visited the site, but were unable to help, Juan said.
Juan said she had already witnessed five different incidents where kittens or cats have been stuck in abandoned pipes belonging to Taipower, adding that she hoped the company would place caps on such pipes to prevent similar incidents.
Taipower official Chen Ming-shu (陳銘樹) said the pipe was not installed by the company, but was put in place by local residents, adding that the company would ask people to remove pipes they had installed.
The company said it would allocate funding to place caps on abandoned pipes.
Juan said the rescued cats were being cared for at Animal Rescue Team headquarters and would be made available for adoption.
She called on people to contact the team if they thought of any way to help the still-trapped kitten or had a drain camera longer than 5m.
Comments will be moderated. Keep comments relevant to the article. Remarks containing abusive and obscene language, personal attacks of any kind or promotion will be removed and the user banned. Final decision will be at the discretion of the Taipei Times.