Tsai hopes to make Kaohsiung gateway to world
Embarking on a tour of Taiwan following her nomination as the Democratic Progressive Party's (DPP) candidate for next year's presidential election, DPP Chairperson Tsai Ing-wen (蔡英文) made her first stop in Kaohsiung and said that the city would become an important door to the international community if she were elected.
Tsai plans to stop in Tainan, Chiayi County, Yunlin County and Taichung to meet with the heads of local governments on the tour.
Meeting with Kaohsiung Mayor Chen Chu (陳菊) and DPP Kaohsiung City Council Speaker Kang Yu-cheng (康裕成), Tsai said that Kaohsiung was her first stop because she hoped to develop Kaohsiung into an important international gateway.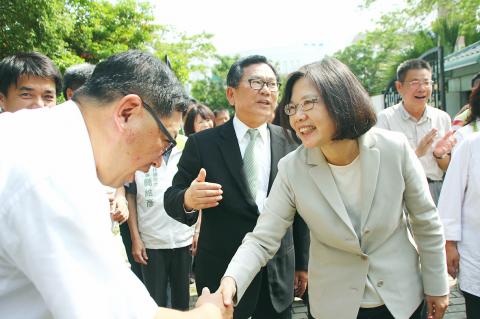 Democratic Progressive Party Chairperson Tsai Ing-wen, right, shakes a supporter's hand in Chiayi County yesterday.
Photo: Lin I-chang, Taipei Times
The municipality has ambitious plans that are limited by resources, resources that could be supplied by a more active central government, Tsai said.
Kaohsiung residents should understand that the DPP would depart from previous development models privileging select parts of society and would instead pursue equal development in culture, society and industry, Tsai said.
The DPP's goal, if elected, is to create a partnership between the central and local governments, and work together in furthering Taiwan's development, Tsai said.
The nation's future economic and industrial growth, stemming from every corner of Taiwan, would force local governments to take on more important roles, Tsai said.
Tsai's visit to Kaohsiung, and her entire tour, is aimed at gaining an in-depth understanding of local governments' roles and helping local governments better relay the voice of the public, Tsai said.
"We hope to have a chance to become the ruling party again and help Kaohsiung achieve even faster development," Tsai said.
With central government aid, the city — with competent leadership and outstanding council members — has the potential to become a fast-growing international urban center, as well as becoming an important portal connecting Taiwan to the rest of the international community, Tsai said.
For the past nine years, Chen has become a symbol of local governmental success, Tsai said in an interview after the event, adding that Chen garnered record-high in votes for the DPP in the nine-in-one elections in November last year.
It is a clear sign of Chen's success in government and that she has the support of Kaohsiung's residents, Tsai said.
Local governments know most clearly what the people need due to their proximity to the public, and it is in the best position to care for the public, Tsai said.
The success of DPP governance in Kaohsiung has let Taiwanese experience a government that cares for the people, Tsai said, adding that the nation should rejoice in having a successful example of governance.
Meanwhile, Chen welcomed Tsai's visit and said that the municipality had much work yet to do to address the imbalance in regional development between the north and south.
Making a gift of the Anthruium flower to Tsai, Chen said she was confident in Tsai's wisdom and ability to lead Taiwan to a better place.
Comments will be moderated. Keep comments relevant to the article. Remarks containing abusive and obscene language, personal attacks of any kind or promotion will be removed and the user banned. Final decision will be at the discretion of the Taipei Times.