Aborigine sentenced over deer
LEGAL CONFUSION: Keanu said he knew it was against the law to kill an endangered animal, but local officials had said there was an exemption for those damaging crops
The Taitung District Court on Tuesday sentenced Aboriginal hunter Keanu to two year's probation and a fine of NT$10,000 (US$320) after convicting him of hunting Formosan Reeve's muntjac, a protected species, though it said the offense was not deliberate and he is not likely to reoffend.
Keanu, from a Bunun community in Taitung County's Yanping Township (延平), was found transporting a dead muntjac by police officers last year.
He said at the time that the deer had been caught in a trap he set on his farm to catch animals destroying crops.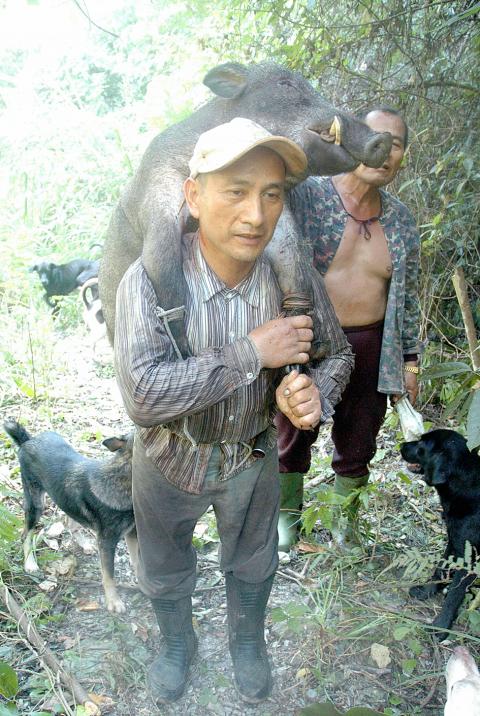 Aborigine hunter Keanu carries a wild boar in Taitung County's Yanping Township in an undated photograph.
Photo: CNA
With nearly 40 years of hunting experience, Keanu is a local hero, renowned for hunting wild boar. He is famous for having caught more than 1,000 boars, including an enormous "king boar" that weighed up to 230 jin (138kg).
He earned the title "boar king" for volunteering to catch boars that wreaked havoc in groves and paddies in the neighborhood, locals said.
Keanu said he suspected that a muntjac was damaging his harvest when he found a set of hoofprints beside damaged crops in one of his fields last year.
He said he decided to capture the animal with traditional traps because hunting with dogs — a method he used to employ — might lead to collateral kills of chickens and ducks in the neighborhood.
A muntjac was later caught in the trap and died, he said, adding that the police picked him up when he was taking the animal home.
Hunting or slaughtering protected species is punishable by a jail term of between six months and five years, and a fine of between NT$200,000 and NT$1 million, under the Wild Animal Protection Act (野生動物保育法).
The 61-year-old said he knew that the law prohibited hunting muntjac, but local township officials said that there was an exemption for hunting animals causing damage to crops.
He did not understand the court's verdict in the light of local practices and was confused by the conflicting interpretations of the law, he said.
The court said that it handed down a relatively light sentence because Keanu had made considerable contributions to the community and is unlikely to reoffend due to his age, adding that Keanu had insisted on traditional hunting methods without using guns, a legacy of Aboriginal culture that should be passed on in the community.
Comments will be moderated. Keep comments relevant to the article. Remarks containing abusive and obscene language, personal attacks of any kind or promotion will be removed and the user banned. Final decision will be at the discretion of the Taipei Times.