Delegation received in Japan by brother of Shinzo Abe
Leading a delegation of Taiwanese lawmakers, Legislative Speaker Wang Jin-pyng (王金平) yesterday met with a member of Japan's House of Councillors, Nobuo Kishi, a younger brother of Japanese Prime Minister Shinzo Abe.
In a speech made during the meeting, Wang thanked Kishi for his efforts to improve relations between Taiwan and Japan.
Kishi leads a subgroup of the House of Councillors in the Diet, which aims to boost economic and cultural exchanges between the two nations.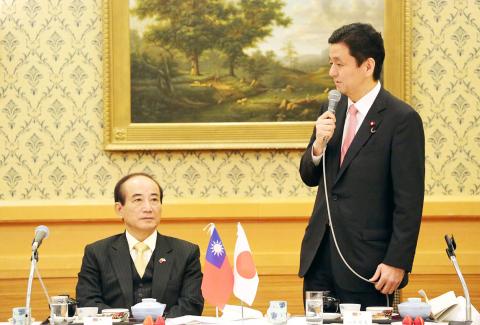 Japanese legislator Nobuo Kishi, right, welcomes a delegation led by Legislative Speaker Wang Jin-pyng, seated, in Tokyo, Japan, yesterday.
Photo: CNA
Wang said he was grateful for Kishi's support in the signing of an agreement in 2013 that addressed fishing rights in disputed waters of the East China Sea, helping resolve decades-old disputes.
Wang added that Kishi and other pro-Taiwan members of the Diet must take credit for their parts in efforts to push for a Japanese version of the Taiwan Relations Act.
The legislative speaker said that former Japanese prime ministers Nobusuke Kishi and Eisaku Sato and former Japanese minister of foreign affairs Shintaro Abe were supportive of Taiwan, adding that he hoped Nobuo Kishi would continue to follow in the steps of these three outstanding politicians to further improve relations with Taiwan.
Nobusuke Kishi and Sato were brothers. Nobusuke, who died in 1987, was Nobuo Kishi's grandfather. Sato died in 1975. Shintaro Abe, who died in 1991, was Nobuo Kishi's father.
In the meeting, Wang praised Shinzo Abe's economic stimulus measures, dubbed "Abenomics," which have led a recovery in the Japanese economy.
Wang said that Abenomics has drawn worldwide attention.
Nobuo Kishi commended Wang as being a Taiwanese politician who has a full understanding of Japan.
He said that Shinzo Abe is pushing the "Proactive Contributions to Peace" initiative and hopes that Taiwan and Japan will continue bilateral talks to bolster their relationship.
The Taiwanese delegation, which includes 15 legislators from the Chinese Nationalist Party (KMT) and the Democratic Progressive Party, is on a four-day visit to Japan. It met about 30 other Japanese members of the Diet at the meeting.
The delegation later toured Chiba Prefecture to visit a radioactive substance detection center and facilities offering long-term healthcare services for elderly people.
Chiba is one of five Japanese prefectures whose food products are banned from being sold in Taiwan because of possible contamination by radioactive substances from the Fukushima Dai-ichi nuclear power plant meltdown in March 2011.
Nobuo Kishi said he hoped the Taiwanese delegation would gain a better understanding of the current conditions in the areas affected by the nuclear disaster and help lift the ban on food items imported from the five prefectures as soon as possible.
Comments will be moderated. Keep comments relevant to the article. Remarks containing abusive and obscene language, personal attacks of any kind or promotion will be removed and the user banned. Final decision will be at the discretion of the Taipei Times.