KMT unveils presidential nomination rules
TIME EXTENSION: Prospective nominees are being given more time to fill out applications and collect signatures in a bid to encourage intra-party coordination
The Chinese Nationalist Party's (KMT) Central Standing Committee finally thrashed out its presidential nomination procedure and schedule yesterday, including plans to make public its candidate in mid-June.
According to the procedures passed by the committee, which are to be promulgated on Wednesday next week, presidential aspirants can pick up application forms and start collecting signatures of endorsement from party members from April 20 to May 16 and register for the race on May 17 and 18. Verification of the signatures will be carried out from May 19 to 24, followed by policy meetings between May 27 and June 5, and a public opinion poll a week after.
The results of the public opinion poll and voting by party members — to be conducted on the same day — is to be announced on June 14. By that time, it would be clear whom the KMT would field as its candidate, although the nomination would still have to be reported to the committee and approved by the party congress.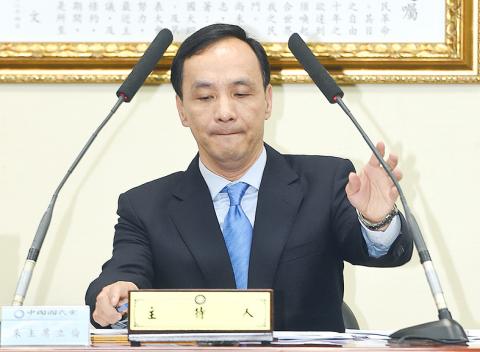 Chinese Nationalist Party (KMT) Chairman Eric Chu adjusts a microphone while hosting a Central Standing Committee meeting in Taipei yesterday.
Photo: Liao Chen-huei, Taipei Times
What has changed from the previous nomination procedure is the combination of the periods for application and signature drive — a total of 27 days, compared with the previous two days for application and 20 days for the signature drive.
Local media reports have quoted top party figures as saying that the "longer time period" is to give potential candidates more time to think about their decision as well as collect signatures.
KMT spokesperson Yang Wei-chung (楊偉中) agreed, saying that the extended period would give aspirants more time to collect signatures — at least 5 percent of the party's 300,000 members — and facilitate intra-party coordination.
Asked about a proposal by KMT Legislator Lee Ching-hua (李慶華) that the candidate be decided solely by a public poll instead of the current system of 30 percent by members' vote and 70 percent by a public poll, Yang said the proposal does not conflict with the procedure that has been stipulated.
"The KMT has for a long time, from the nomination of local councilor candidates to presidential candidates, adopted a combination of party members' vote and public opinion polls. However, at the same time, we have a mechanism in which, if at least half of the contenders agree, the result can also be determined solely by public polls," Yang said.
Comments will be moderated. Keep comments relevant to the article. Remarks containing abusive and obscene language, personal attacks of any kind or promotion will be removed and the user banned. Final decision will be at the discretion of the Taipei Times.