Fish numbers rebound in Taitung's Beinan River
REHABILITATION: Biologist Liu Chiung-hsi said the continued recovery of the river's ecosystem would be aided by a rationing of upstream irrigation supplies
Increased fish populations and diversity of fish species in Beinan River (卑南溪) in Taitung County suggests that the river has made a remarkable recovery from the devastation wrought by Typhoon Morakot in 2009.
Ecology activist Tsai A-feng (蔡阿峰) said that he had recently caught three freshwater fish known as Spinibarbus hollandi — a genus of the carp or minnow family native to southern and eastern Taiwan — in the river in an hour.
Tsai said that the fish measured between 30cm and 40cm in length, and they were the largest and healthiest fish he had seen since before Morakot.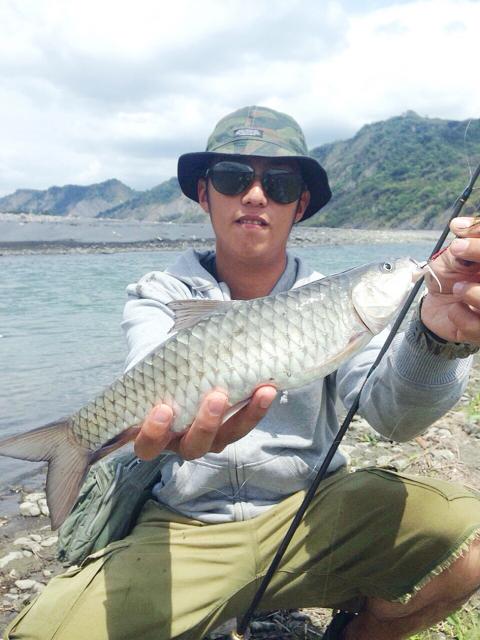 A fisherman poses with a Spinibarbus hollandi he caught in the Beinan River in Taitung County on Tuesday last week.
Photo: Wang Hsiu-ting, Taipei Times
A string of mudslides caused by Morakot swept a large amount of rocks and dirt down the river, wreaking havoc on its ecosystem, but, five years later the fish population in the river has increased, Tsai said.
He said he has seen large schools of fish in deep pools and rapids.
National Taitung University biology professor Liu Chiung-hsi (劉炯錫) said that the increase in fish populations suggests that the river's ecosystem has rebounded, adding that the recovery would be greater if irrigation supplies upstream were rationed.
The typhoon almost wiped out all the fish in Beinan River, which has been gradually filled up by fish from the river's tributaries, Liu said.
He conducted a survey of the river's ecology in 2012, finding a very small number of fish.
However, relatively placid weather in the nation over the past few years has contributed to the river's improved water quality and the rehabilitation of its ecosystem, he said, adding that the increase in fish populations might be associated with the mating season.
The growing population of Spinibarbus hollandi is generally thought to correspond to an increase in the population of another species, Varicorhinus barbatulus, as the former feeds on the fry of the latter, Liu said.
The reappearance of Varicorhinus barbatulus is a good sign, as the species can only survive in clean water, he said.
However, a large amount of water upstream is diverted for irrigation purposes, so the river's ecology could make a greater recovery if a larger volume of water were directed down the river to sustain the habitability and stability of the river, he said.
Comments will be moderated. Keep comments relevant to the article. Remarks containing abusive and obscene language, personal attacks of any kind or promotion will be removed and the user banned. Final decision will be at the discretion of the Taipei Times.