TRA unveils lunchboxes created for Children's Day
The Taiwan Railways Administration (TRA) yesterday introduced four different types of boxed meals for children in celebration of Children's Day today.
According to the administration, the boxed meals were created by restaurants in Taipei, Taichung, Kaohsiung and Hualien. Except for chicken nuggets, french fries and hash browns, each lunchbox consists mainly of vegetables, such as broccoli, baby corn, carrots or mixed vegetables. To help whet children's appetites, each restaurant used fish paste formed into the shape of an animal.
Children's lunchboxes purchased in Taipei are to feature a fish cake styled into the shape of a penguin. Likewise, the meals purchased in Taichung, Kaohsiung or Hualien feature a fish cake made to resemble a panda, duck or rabbit respectively.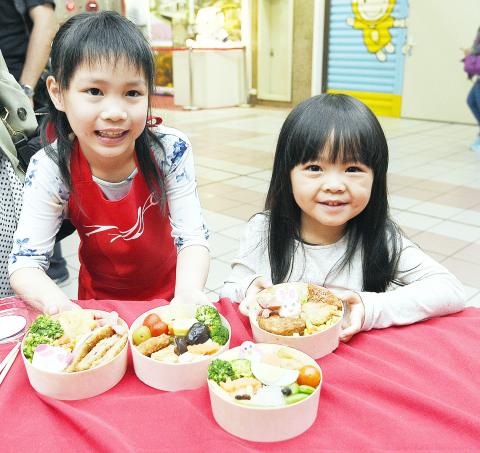 Two girls pose for a picture yesterday in Taipei with children's lunchboxes made by the Taiwan Railways Administration.
Photo: Chen Chih-chu, Taipei Times
Catering department administrative chef Huang Ming-chu (黃明珠) was in charge of designing the dishes in the children's lunchboxes. She said this was the first time that the agency launched boxed meals specifically for children.
Commenting on the production of the children's lunchboxes, Huang said the most challenging part was introducing two rice rolls into the box. She added that the rice rolls are individually seasoned with tomato and seaweed sauces, and then shaped into a heart.
"It usually takes about one to two minutes to put together a lunchbox for adults," Huang said. "However, making a packed meal for children takes about five to 10 minutes. You have to arrange the layout of the lunchboxes a bit so that kids like them."
Huang said that she consulted several cookbooks before determining what dishes to include in the meals. She said that a children's lunchbox has about 300 to 320 calories, which is about that found in an adult boxed lunch. As a test, Huang said that she took pictures of the lunchboxes and sent them to her grandsons.
Both of them like what they saw in the lunchboxes, she said.
The administration said that the children's lunchboxes would be available for sale only from today to Friday next week. Starting today, the railway stations in Taipei, Taichung and Kaohsiung are each to be allocated 100 children's boxed meals for purchase. The railway station in Hualien is to have only 50 for purchase.
Each children's packed lunch costs NT$69.
Comments will be moderated. Keep comments relevant to the article. Remarks containing abusive and obscene language, personal attacks of any kind or promotion will be removed and the user banned. Final decision will be at the discretion of the Taipei Times.