Groups urge halt to cross-strait talks
A coalition of civic groups yesterday lashed out at the government's ongoing negotiations with China over a proposed cross-strait trade in goods agreement, saying that the process lacked legislative oversight.
Led by Economic Democracy Union convener and human rights lawyer Lai Chung-chiang (賴中強), the groups urged an immediate halt to an upcoming round of negotiations on the proposed treaty, set to take place from Tuesday to Thursday next week.
He said that the negotiations should not take place until a proposed oversight bill for cross-strait agreements takes effect.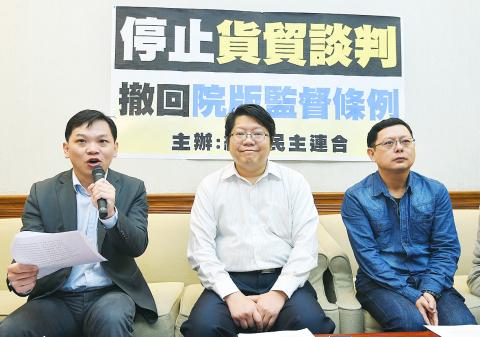 Economic Democracy Union convener Lai Chung-chiang, center, and Taiwan Labor Front secretary-general Son Yu-liam, right, listen as Taiwan Democracy Watch board member Chiou Wen-tsong speaks at a press conference in Taipei yesterday.
Photo: Liao Chen-huei, Taipei Times
Lai, one of the most vocal critics of President Ma Ying-jeou's (馬英九) administration, played a prominent role in the Sunflower movement last year, which at its height drew more than 500,000 protesters, who demonstrated against the government's handling of a proposed service trade pact with China.
Although the cross-strait goods trade pact was first proposed four years ago — with nine rounds of negotiations already conducted between government officials from Taiwan and China — Lai said that the treaty has so far evaded legislative oversight.
The groups criticized Ma's suggestion on Saturday last week to add facial masks to the list of industrial goods included in the free-trade pact, saying that the off-hand remark indicated a lack of direction in formulating economic policies.
"What exactly are our economic goals for the cross-strait trade in goods treaty?" Lai asked.
"The Ma administration seems to be conducting its negotiations blindly," he said.
Taiwan Democracy Watch member Chiou Wen-tsong (邱文聰) said that the negotiations on trade in goods would not be allowed if an oversight bill were in place.
The passage of an oversight bill was one of the main demands of the Sunflower movement, after Chinese Nationalist Party (KMT) Legislator Chang Ching-chung (張慶中) attempted to ram through a proposed version of a cross-strait treaty in about 30 seconds.
There are eight proposed versions of the oversight bill under legislative review, but critics say that the Executive Yuan's version of the bill lacks teeth and would fail to provide any meaningful oversight.
Comments will be moderated. Keep comments relevant to the article. Remarks containing abusive and obscene language, personal attacks of any kind or promotion will be removed and the user banned. Final decision will be at the discretion of the Taipei Times.