Event honors 'Great Taiwan Historian'
Academia Historica: Chang Yen-hsien clarified Taiwanese history, enabling a national identity to grow, former president Lee Teng-hui wrote in a tribute essay
Leading Taiwanese academics along with former colleagues, friends and students gathered over the weekend to commemorate the late Chang Yen-hsien (張炎憲), former Academia Historica president and head of the Taiwan Society, marking the occasion by publishing an anthology of tribute articles on Chang and his work.
"Chang's whole life was devoted to elucidating and documenting Taiwan's history. He is the divine messenger sent by heaven to deliver to us the Taiwanese people's authentic history," law professor Lee Hung-hsi (李鴻禧) said.
National Chengchu University historian Tai Pao-tsun (戴寶村) served as chief editor of the anthology, which was published by the Wu San Lien Foundation for Taiwan Historical Materials.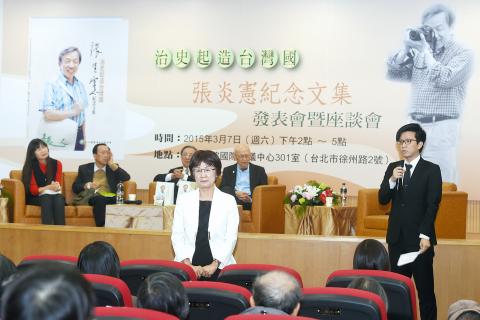 Lin Hsiu-li, center, widow of former Academia Historica president Chang Yen-hsien, attends an event commemorating Chang's life and work in Taipei on Saturday.
Photo: Chien Jung-fong, Taipei Times
Running to 565 pages, the collection contains contributions from renowned public figures, academics, colleagues, family members and Chang's former students — many of whom have become teachers, researchers and professors of Taiwanese culture, sociology and history.
At a commemoration on Saturday, Tai said he titled the anthology: Documenting History to Build Up the Taiwan Nation (治史起造台灣國), because that had become Chang's life mission, with his tireless fieldwork talking to people, recording countless oral history interviews, enriching the research database and gradually cultivating a Taiwanese national identity.
Close friends of Chang's, Lee and Tai were overcome with emotion and choked up when delivering eulogies and tributes during the commemoration.
'OUTSTANDING'
"Chang was an outstanding history researcher. He represented the conscience of Taiwanese history in academic circles. He held strong to the principle of elucidating and documenting Taiwan's history based on the collective experiences and perspectives of Taiwanese people," former president Lee Teng-hui (李登輝) wrote in an article included in the anthology.
Throughout his eight years at the helm of Academia Historica, Chang bravely broke the shackles of the past and led the institution into research on Taiwanese history that was mostly ignored by the government and society, the former president wrote.
"Chang always espoused his conviction that study of Taiwan's history must be based on Taiwanese culture and identity, and not from the Chinese people's perspective. He opened the door and allowed Taiwanese to know our own history. From these efforts, the collective Taiwanese identity was gradually built up," Lee wrote.
Dubbed the "Great Taiwan Historian" by colleagues, Chang was also active in civic affairs, Taiwan's democracy movement and the struggle for freedom and civil rights.
RANGE OF SERVICE
Besides leading Academia Historica, Chang also held directorship and chairman posts in the Taiwan Society, the Taiwan Historic Research Association, the Taiwan Association of University Professors and other important academic and civic affairs organizations.
Defying political pressure and interference from the Chinese Nationalist Party (KMT) government, Chang undertook seminal research projects on the 228 Massacre, recording interviews with survivors and victims' families, and also on the history of the White Terror and Martial Law eras under the dictatorship of Chiang Kai-shek's (蔣介石) family rule.
Chang died after a heart attack in the US in October last year during a research trip aimed at recording interviews with Taiwanese expatriates — some of whom had been on a KMT blacklist for decades — about their struggles for Taiwan's democracy and freedom.
Comments will be moderated. Keep comments relevant to the article. Remarks containing abusive and obscene language, personal attacks of any kind or promotion will be removed and the user banned. Final decision will be at the discretion of the Taipei Times.