CAA criticized over plan for Aerotropolis hearings
LAND: The project requires more than 3,000 hectares and some Greater Taoyuan residents are unhappy they have not been invited to the public hearings on the plan
Taoyuan residents and social activist groups yesterday criticized what they describe as a government attempt to subject the Taoyuan Aerotropolis plan to an opaque public hearing process, saying the move would exclude thousands of residents who are expected to be affected by the project.
The Aerotropolis project is expected to require the seizure of about 3,130 hectares of land that is home to about 46,000 people, making it the largest eviction plan in the nation's history. In its current form, the proposal would see commercial and residential areas, as well as a free economic pilot zone, established near Taiwan Taoyuan International Airport.
Speaking at a Taipei news conference yesterday, Taiwan Association for Human Rights deputy secretary-general Wang Pao-hsuan (王寶萱) criticized the Civil Aeronautics Administration (CAA) for issuing notices about the public hearings to 8,000 households — who live in a designated agricultural area on the project's proposed site and whose land the municipal government has proposed seizing — while excluding about 14,000 households living on the outskirts of the area.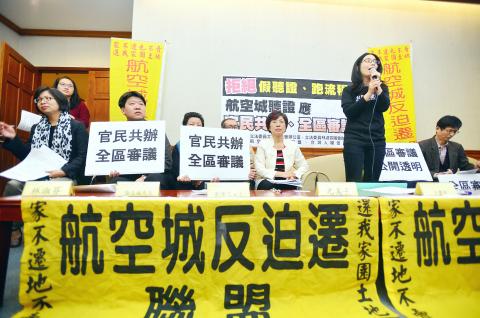 Taoyuan residents and social activists attend a press conference at the Legislative Yuan in Taipei yesterday to complain that they are being excluded from the Civila Aeronautics Administration's public hearing process for the Taoyuan Aerotropolis.
Photo: Wang Yi-sung, Taipei Times
The agency should issue invitations to all stakeholders in the land-seizure zone, and should collaborate with the private sector to hold public hearings in an inclusive manner, she said, adding that the events should be chaired by an objective third-party.
Speaking on behalf of the residents, Wang urged the ministry to respond to the requests by 5pm today, or the residents would launch a massive protest.
By excluding the large number of residents and land owners, the Ministry of Transportation and Communications has committed foul play, Taiwan Rural Front member and lawyer Thomas Chan (詹順貴) said.
He accused the ministry of distorting restrictions in the Administrative Procedure Act (行政程序法), which stipulate that public hearings are mandatory for projects that involve the seizure of agricultural zones.
However, that does not mean that the ministry can exclude property owners and residents living outside of the zone, he said.
"The number of participants should be split equally between the public and private sectors. The government is trying to rob the people of their land, and decisions should not be made unilaterally by officials," said Chen Min-chieh (陳民杰), a resident who has been invited to the public hearings.
CAA senior engineer Yang Po-wen (楊博文) said the ministry would approach the public hearings in a manner that heeds public opinion, ensures civic participation and best serves the public interest.
He said that he would bring the opinions expressed at the news conference to a special task force.
Comments will be moderated. Keep comments relevant to the article. Remarks containing abusive and obscene language, personal attacks of any kind or promotion will be removed and the user banned. Final decision will be at the discretion of the Taipei Times.