Fines aim to curb double parking, smoking
DOUBLE TROUBLE: Police will be able to fine double parkers twice if they have not moved within two hours. Motorists whose smoking affects others may also be fined
Motorists and motorcyclists are to face stricter penalties for double parking when amendments to the Act Governing Punishments for Violations of Road Traffic Regulations (道路交通管理處罰條例) take effect on July 1.
National Police Agency traffic division head Fang Yang-ning (方仰寧) said double parking has often led to traffic accidents and the revisions to the law would boost the fine for double parking from NT$600-NT$1,200 to NT$2,400.
Fang outlined several scenarios in which a police officer could issue a ticket for double parking. They include the driver of a car leaving the driver's seat, even if there are passengers in the car, double parking for more than three minutes or double parking a car and turning its engine off.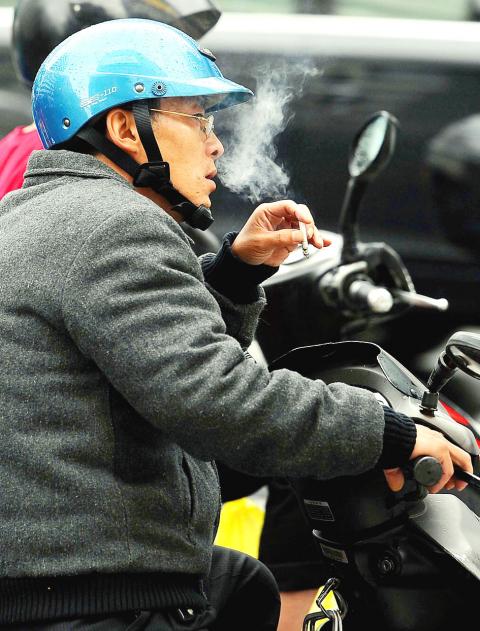 A scooter driver smokes while waiting for traffic lights to change in Taipei on Jan. 9, 2013.
Warning: Smoking can damage your health
Photo: Chang Chia-Ming, Taipei Times
Police will be able to "double ticket" double parkers if the driver does not move the vehicle within two hours of receiving the first ticket, Fang said, adding that the two-hour rule would not apply if the driver remained behind the wheel since getting the first ticket.
National Police Agency statistics show that about 2.29 million traffic citations last year involved illegal parking, accounting for 30 percent of total traffic violations. However, the agency did not separate the illegal parking citations into individual categories, so it could not say how many involved double parking.
The amendment includes several other new rules.
Motorists who smoke and drive and consequently affect other motorists can be fined NT$600 if the ashes or smoke from their cigarettes reach other drivers or if the lighting or littering of cigarettes threatens the safety of other road users.
To address the problem of people using vehicles with revoked license plates to occupy roadside parking spaces, Fang said that as of July 1, police would be able to tow such vehicles away and remove their license plates. Previously, police could only fine drivers illegally occupying parking spaces.
Drivers are set to face fines of up to NT$6,000 if the tire tread pattern on their vehicle is below 1.6mm in depth or if parts of their vehicles fall off while on expressways or freeways, including tire blowouts.
Meanwhile, the agency said there was a decline in A1-category traffic accidents — where a victim dies within 24 hours of an accident — last month compared with January last year. Last month there were 139 such accidents, 60 fewer than the year before.
It said the top three causes of A1-category accidents last month were drivers' failure to heed the road conditions ahead, follow traffic signs or yield to other vehicles that have the right of way.
It was the first time drunk driving was not one of the three top causes of A1-category accidents, the agency said.
Comments will be moderated. Keep comments relevant to the article. Remarks containing abusive and obscene language, personal attacks of any kind or promotion will be removed and the user banned. Final decision will be at the discretion of the Taipei Times.