Steven Chen disgrees with Ma's view of 228 Incident
Overseas Community Affairs Council Minister Steven Chen (陳士魁) yesterday said he disagreed with President Ma Ying-jeou's (馬英九) assessment that the 228 Incident was a movement of popular resistance against government injustice.
Chen, who also serves as chairman of the 228 Memorial Foundation, said that the description was inaccurate because the vast majority of the victims of the crackdown did not participate in any "resistance activities" against the Chinese Nationalist Party (KMT) administration.
His remarks put him at odds with the KMT's official party line regarding the 1947 incident, which was announced during a KMT conference headed by Ma in 2006.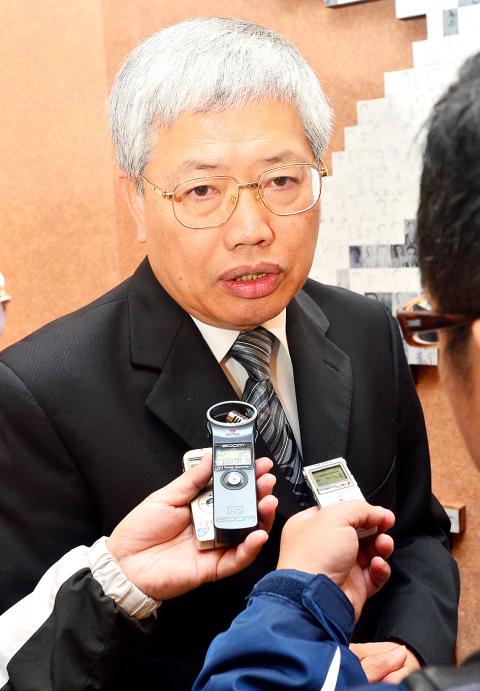 Overseas Community Affairs Council Minister Steven Chen tells reporters at the 228 Memorial Museum in Taipei yesterday that he disagrees with some of the government's views on the 228 Incident.
Photo: Wang Yi-sung, Taipei Times
His disparate view has aroused interest because Chen is not only a KMT member, but has long been seen as an ally of Ma.
"That is not what happened. Of course some people engaged in armed revolt, but most of the members of the elite did not," Chen said, adding that he has expressed his concerns to Ma.
He said such victims included his uncle, Chen Cheng-yueh (陳成岳), a Japanese-educated dentist who lost his life during the series of purges that targeted the core of Taiwanese intellectuals and elites in the aftermath of protests that began on Feb. 27, 1947.
Chen took over as chairman of the state-funded 228 Memorial Foundation in August last year.
Chen made the comments during the book launch of a collection of photographs of elderly 228 survivors and family members.
His comments echoed the views of Chang An-man (張安滿), a 228 Memorial Foundation board member who lost his grandfather, father and uncle in April 1947.
During a 228 memorial event in Hualien last year, Chang told Ma that he was unable to accept the KMT's view of the Incident.
Comments will be moderated. Keep comments relevant to the article. Remarks containing abusive and obscene language, personal attacks of any kind or promotion will be removed and the user banned. Final decision will be at the discretion of the Taipei Times.