Ko taps deputy mayor to serve as Universiade CEO
CHANGE OF PLANS: Appointing a deputy mayor to head the sporting event, instead of an outside CEO, will make it safer and more efficient, the mayor said
Taipei Deputy Mayor Chou Li-fang (周麗芳) is to concurrently serve as the 2017 Universiade's chief executive officer, Mayor Ko Wen-je (柯文哲) announced yesterday.
"After much consideration and changing our minds several times, we decided to make the Universiade's organizing committee part of the city government," Ko said, adding that he felt the arrangement would be "safer" administratively.
"I think rolling the committee into the city government will work better, because outside committee members will not be able to directly use city government resources," he said.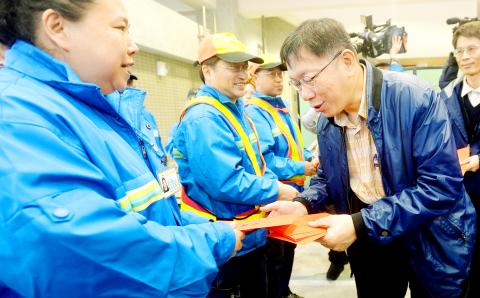 Taipei Mayor Ko Wen-je, right, yesterday expresses his gratitude as he distributes red envelopes to the city's cleaning staff who are working during the Lunar New Year holiday in Taipei.
Photo: Lin Cheng-kun, Taipei Times
Ko's announcement reverses previous statements that he would appoint an independent CEO for the Universiade, an international athletic competition for college students billed as second only to the Olympics by its organizer, the International University Sports Federation.
Ko's third deputy mayor was originally set to assume responsibility for the Universiade, but after a series of setbacks in finding willing candidates for the post, Ko stated that he would appoint an independent CEO to share the responsibility, citing the event's "complexity."
The mayor issued an open call for applications for the posts of deputy mayor and Universiade CEO simultaneously on his Facebook page earlier this month. He announced Chou's appointment as deputy mayor last week and said the city needed to hold further discussions on the responsibilities and role of the Universiade CEO before making a final decision.
In addition to Chou assuming the responsibilities of Universiade CEO, Taipei Research, Development and Evaluation Commission Chairman Chen Ming-shiun (陳銘薰) is to serve as deputy CEO, while the commissioners of the city's departments of education, culture, sports and tourism are to join the event's executive committee, Ko said.
Although Chou, a professor of finance at National Chengchi University, lacks an athletic background, Ko said he was confident that she had sufficient experience to serve as Universiade CEO.
He added that the executive committee would exercise "collective leadership," with the commissioners of culture and tourism assisting if Chou required help in marketing the event.
Ko also announced that accountant Hsu Shun-hsiung (許順雄) would be appointed to fill the vacancy left on the city's Clean Government Committee by Neil Peng (馮光遠) after Peng resigned last week to stand in next year's legislative election.
Ko also confirmed that former minister of health Yaung Chih-liang (楊志良) would continue to serve on the committee, but would withdraw from the Taipei Dome investigation.
Comments will be moderated. Keep comments relevant to the article. Remarks containing abusive and obscene language, personal attacks of any kind or promotion will be removed and the user banned. Final decision will be at the discretion of the Taipei Times.