Police raid Taipei clubs
SUSPECTS DETAINED: Thirty-two suspected drug users were detained in the raids, nine of whom were taken to police stations for drugs tests, district prosecutors said
The Taipei District Prosecutors' Office early yesterday morning launched a rare raid across the capital's nightclub scene, involving 700 police officers and 15 sniffer dogs.
More than 200 people were detained on suspicion of selling or using drugs, the office said.
At 2:30am, the office launched a general search targeting the 409 Club in Zhongshan District (中山), and the Chun Yueh KTV and Lava Club in Xinyi District (信義), the three establishments prosecutors said had been most commonly named in tip-offs for suspected illegal drug activity.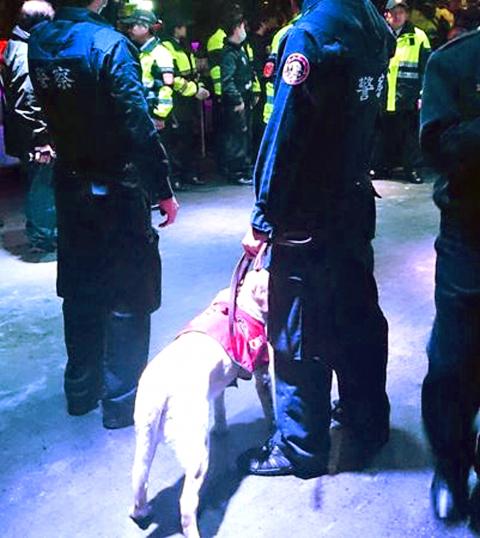 Police officers and a sniffer dog take part in a drugs operation in Taipei early yesterday morning.
Photo: Liu Ching-hou, Taipei Times
The police found one MDMA pill, commonly known as "ecstasy," in the 409 Club and detained 68 people for further tests, prosecutors said.
At the Chun Yueh, police found one small bag of ketamine-laced milk powder, six ketamine-laced cigarettes, 11 ecstasy pills, six amphetamine pills, 51 ketamine pills, one bottle of ketamine, a bill containing ketamine powder, four capsules of ketamine powder, a small bag of ecstasy and a small bag of marijuana
They also found there four small bags of amphetamines, a bottle of gamma-hydroxybutyric acid, four bags with ketamine residue and one small bag with ecstasy residue, prosecutors said.
Police detained 32 suspected drug users, nine of whom were taken to a police station for drugs tests, prosecutors said.
Police also found nine ketamine tablets and two suspects in the Lava Club, the prosecutors added.
Prosecutors said that while looking into other drug-related cases, they discovered that bars, KTV parlors, motels and hostels, as well as private clubs, were widely used by drug dealers to distribute their wares.
During the winter vacation, young people are able to relax from the pressure of schoolwork, so they might be party to situations that introduce them to the drug scene, the district prosecutors' office said.
This story has been amended since it was first published to correct the name of the KTV establishment from Grand Hyatt Hotel to Chun Yueh KTV. The Chinese characters for Grand Hyatt and Chun Yueh — 君悅 — are the same.
Comments will be moderated. Keep comments relevant to the article. Remarks containing abusive and obscene language, personal attacks of any kind or promotion will be removed and the user banned. Final decision will be at the discretion of the Taipei Times.