Doctor's decision gives man chance to keep foot
A 28-year-old man who lost his left foot in a car accident was spared its permanent loss thanks to a doctor's decision to graft the severed foot to one of his thighs to improve the chances of a successful reattachment.
The man, surnamed Lu (呂), was driving on National Freeway No. 3 from Taipei to Pingtung County when he fell ill and lost control of his vehicle. He crashed into a barrier at a high speed and was thrown through the windshield.
Lu's left foot was severed just above the ankle and he was rushed to National Cheng Kung University Hospital.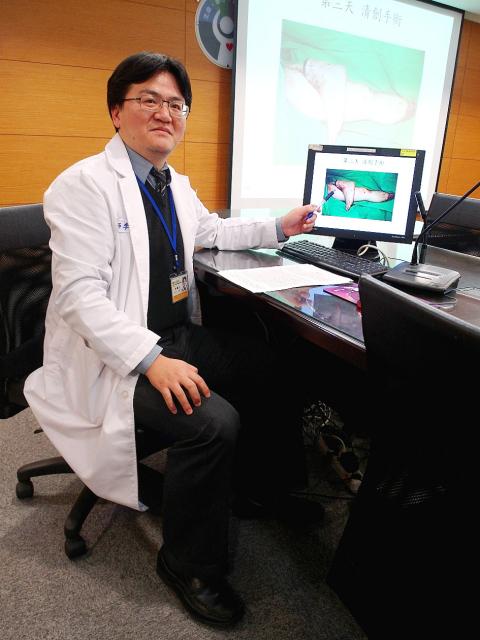 Doctor Yao-Chou Lee at National Cheng Kung University Hospital points to his computer monitor on Wednesday following successful completion of the first stage of a new transplant operation to mend a patient's severed foot.
Photo: Chang Wen-huang, Taipei Times
"A preliminary examination found that Lu suffered multiple fractures and injuries," plastic surgeon Lee Yao-chou (李曜洲) said. "Given that his left foot was avulsively amputated, a successful reattachment would be unlikely without a thorough debridement and shortening of the bone."
Lee said that while amputation seemed like a reasonable option, Lu's young age prompted him to look for other solutions.
He grafted the severed foot to one of Lu's thighs to restore blood flow, an approach that spared the patient from extensive debridement of his leg's soft tissues and bone-shortening surgery.
Seven days later, after Lu's condition stabilized, Lee reattached the foot.
Lu was able to walk without assistance four months after the procedure.
"In cases where a limb is accidentally severed, three factors have to be considered before reattachment surgery can be performed: Whether the patient's life can be saved, whether the blood flow to the amputated body part can be restored within six hours after the accident and whether the reattached limb would function better than a prosthesis," Lee said.
Comments will be moderated. Keep comments relevant to the article. Remarks containing abusive and obscene language, personal attacks of any kind or promotion will be removed and the user banned. Final decision will be at the discretion of the Taipei Times.