DPP legislators denounce Kaohsiung probe
EXPLOSIONS: The Finance Committee head dismissed allegations of political bias, saying many residents are asking why they have not received their share of donations
Opposition lawmakers yesterday accused the legislature's Finance Committee, chaired by Chinese Nationalist Party (KMT) Legislator Lin Te-fu (林德福), of political oppression by seeking to arrange a special panel report on whether the Greater Kaohsiung Government misallocated donations received after last year's pipeline explosion.
The disaster occurred on the night of July 31 and the morning of Aug. 1 last year in Kaohsiung's Cianjhen (前鎮) and Lingya (苓雅) districts, killing 32 people and injuring more than 300.
Democratic Progressive Party (DPP) legislators Wu Ping-jui (吳秉叡), Chiu Yi-ying (邱議瑩) and Chen Chi-mai (陳其邁) said the report was intended to target the municipal government, adding that the committee should not become a place for personal political vendettas.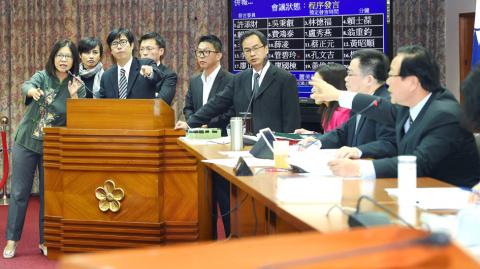 Chinese Nationalist Party (KMT) Legislator Lin Te-fu, right, gestures during a meeting of the Finance Committee in the legislature yesterday as Democratic Progressive Party legislators take the podium, protesting a proposal to arrange for a special panel report on the allocation of donations for the Greater Kaohsiung gas explosions.
Photo: Lo Pei-der, Taipei Times
DPP Legislator Kuan Bi-ling (管碧玲) said the municipal government updates donations and charity funds on its Web site daily and is easily accessible, adding that she has never seen Lin express any concern for Kaohsiung before.
"Who is behind the move for such a panel, the top echelons of the KMT or is it KMT party chairman candidate [New Taipei City Mayor] Eric Chu (朱立倫)?" Kuan asked.
DPP Legislator Chao Tien-lin (趙天麟) asked Lin sarcastically whether he could read Chinese, pointing to the Ministry of Health and Welfare's announcement that the actual data for the funds had yet to be compiled.
"We wish to see your concern, not your false statements against the municipality," Chao said.
In response, Lin said that as the committee chair, he was within his rights to look into any issue, adding that many residents of the municipality had called his office, concerned about why they had not yet received the NT$6,000 donation that was promised them.
The planned report is designed to determine whether any wrongdoing has occurred, Lin said.
If the municipal government has nothing to hide, there is no reason why it could not publicize a transparent account for the public, Lin added.
Wu countered that based on Lin's logic, DPP lawmakers should also be allowed to arrange a panel report on whether President Ma Ying-jeou (馬英九) received under-the-table political donations from Ting Hsin International Group (頂新集團).
Wu was referring to allegations that Ma took off-the-book donations from the Wei (魏) family, Ting Hsin's owners, during his presidential campaign in 2012.
"The [proposed] panel report is highly politicized and should be canceled," Wu said.
After a recess announced in reply to the DPP legislators asking for a change in schedule, both sides reached an agreement to take the matter off the schedule so other issues could proceed within the committee.
Comments will be moderated. Keep comments relevant to the article. Remarks containing abusive and obscene language, personal attacks of any kind or promotion will be removed and the user banned. Final decision will be at the discretion of the Taipei Times.