Ju Ming sculpture bootleggers busted: officials
Prosecutors on Tuesday said they dismantled an art counterfeiting ring that specialized in ripping off the works of renowned sculptor Ju Ming (朱銘), after seizing more than 50 pieces of unlicensed art that could have potentially been sold for about NT$900 million (US$28.3 million).
The Shilin District Prosecutors' Office in Taipei said that it received a tip last month from the Ju Ming Culture and Education Foundation, an organization tasked with authenticating works said to be by the artist.
The organization reported that 20 percent of the works that went through its authentication process between 2004 and last year were found to be unauthorized copies.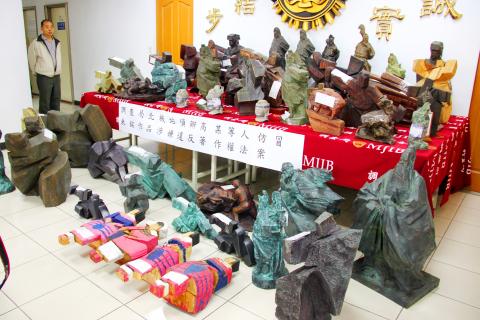 Dozens of confiscated counterfeit sculptures resembling works by sculptor Ju Ming are put on display by the Ministry of Justice's Investigation Bureau in Taipei on Tuesday.
Photo: Wu Sheng-ju, Taipei Times
Prosecutors and Investigation Bureau agents led local police in simultaneous raids of 23 locations thought to be used by the alleged ring for production or sales across Taipei, Greater Taichung, and Taoyuan, Miaoli and Nantou counties.
Nine suspects were arrested.
Investigators said that a bronze-casting workshop commissioned by Ju to produce sculptures had "gone rogue," using the sculptor's molds without authorization to make extras.
The workshop allegedly violated its contractual obligations by not destroying the molds after use.
In addition to charges of violating intellectual property laws, prosecutors have added forgery charges, because the suspects allegedly intended to affix the counterfeited sculptures with Ju's signature.
Copies of signature works from Ju Ming's Taichi series that were seized include Arch (拱門), Crossing Hands (十字手) and Single Whip (單鞭下勢), which are normally priced by the artist at NT$20 million, NT$36 million and NT$60 million respectively, prosecutors said.
Comments will be moderated. Keep comments relevant to the article. Remarks containing abusive and obscene language, personal attacks of any kind or promotion will be removed and the user banned. Final decision will be at the discretion of the Taipei Times.