Lawmaker urges action on organ donor law changes
Democratic Progressive Party Legislator Tien Chiu-chin (田秋堇) yesterday urged the Chinese Nationalist Party (KMT) caucus to cease stalling cross-party negotiations for a draft amendment she proposed in April to the Human Organ Transplantation Act (人體器官移植條例), a move she said could offer a solution to the nation's insufficient supply of donated organs.
Tien made the call at a press conference in Taipei yesterday morning, one day after she attended a news conference held by medical and human right groups urging the government to reject former Chinese deputy minister of health Huang Jiefu's (黃潔夫) proposal for the establishment of a mechanism to facilitate organ donations from China to Taiwan.
"The draft amendment passed its initial legislative committee review in May, but as of today, no cross-party negotiation session on the matter has been convened," Tien said. "More than 8,000 people in the country are in desperate need of an organ while the KMT caucus procrastinates."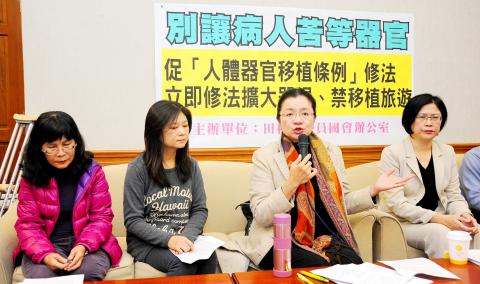 Democratic Progressive Party Legislator Tien Chiu-chin, second right, speaks at a news conference at the Legislative Yuan in Taipei yesterday, calling for cross-party negotiations on a draft amendment to the Human Organ Transplantation Act.
Photo: Liu Hsin- De, Taipei Times
Tien's draft amendment includes several major changes to the country's organ donation and transplantation system, including offering a legal basis to the process for retrieving organs from donors with no heartbeat and requesting relevant government agencies to inquire over people's willingness to donate organs when they apply or renew ID cards, driver's licenses or National Health Insurance cards.
It would permit people to donate kidneys — the organ that is most in demand in the country — to someone they are emotionally related to, even if the recipient is not a third-degree blood relative, as required by the current regulations.
Another major change is the criminalization of organ sales and the knowing receipt of organs of unknown origin.
Tien said KMT Lawmaker Hsu Shao-ping (徐少萍) is the only person who can call a cross-party negotiation, as she was the one who put the draft amendment on the agenda for committee review.
However, the KMT caucus cited campaign work for the Nov. 29 nine-in-one elections as the reason the matter was put off and canceled the only negotiation session it had arranged in the past seven months just five days before its scheduled date on Wednesday last week, Tien said.
"Its handling of the issue makes me wonder if the government is trying to maintain the current outdated regulations to pave the way for Huang's proposal," she added.
Taiwan Association for International Care of Organ Transplants deputy director-general Huang Shi-wei (黃士維) said the price for a kidney transplant in China has surged from NT$1 million (US$32,900) a decade ago to NT$4 million today, while the cost of a liver transplant has risen from NT$2 million to nearly NT$8 million over the same period.
"The dramatic price hikes suggest that organ donation and transplant is not a medical practice in China, but an exploitative business," Huang Shi-wei said, urging the legislature to immediately pass the amendment to prevent more Taiwanese from receiving potentially immorally harvested organs in China.
Ministry of Health and Welfare's Department of Medical Affairs senior executive officer Liu Yu-ching (劉玉菁) said that while there are about 200 organ donors per year in Taiwan, the ministry's new policy, which gives people priority on the transplant waiting list if their spouse or a third-degree relative was an organ or tissue donor, is expected to help boost organ donations.
"As for Huang Jiefu's proposal, it is an absolutely infeasible plan given the time constraints on organ viability and the large disparity between the laws of two sides across the Taiwan Strait," Liu said.
Comments will be moderated. Keep comments relevant to the article. Remarks containing abusive and obscene language, personal attacks of any kind or promotion will be removed and the user banned. Final decision will be at the discretion of the Taipei Times.