Some hot pot ingredients may be high in preservatives: New Taipei survey
With hot pot a popular fare during the winter, New Taipei City's Public Health Department yesterday released the results of random tests on hot pot ingredients, which found four out of 91 products contained excessive preservatives.
The department purchased the ingredients in traditional markets, supermarkets and restaurants in the city last month and early this month, most of which were processed fish products, hard bean curd and frozen tofu.
The products were tested for a series of preservatives, such as sorbic acid, benzoic acid and dehydroacetic acid, as well as boric acid, hydrogen peroxide and sulfur dioxide.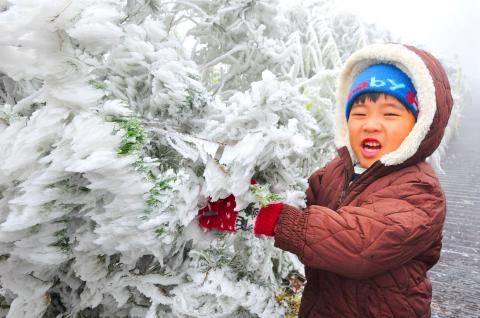 A child yesterday stands next to a frozen tree at the Taipingshan National Forest Recreation Area in Datong Township, Yilan County.
Photo: CNA
"Among them, four tofu products were found to contain excessive levels of benzoic acid. Two of them were served in a Taiwanese-style lamb stew in Banciao District (板橋) and a Cashcity Shabu Shabu branch in Jhonghe District (中和) respectively," said Lin Kuan-chen (林冠蓁), director of the department's Food and Pharmaceutical Management Division.
Lin said that the manufacturers of the these foodstuffs are to be fined between NT$30,000 and NT$3 million (US$1,000 and NT$99,800) in accordance with Article 18 of the Act Governing Food Safety and Sanitation (食品安全衛生管理法), which stipulates that "the use and limitation of food additives shall conform to the standards prescribed by the central competent authority."
In related news, New Taipei City Hospital orthopedist Tsai Ching-feng (蔡錦鋒) yesterday advised people with a history of gout to refrain from drinking hot pot broth and eating organ meats, which generally contain high concentrations of purine and can cause or aggravate the condition.
"Gout is a disorder of purine metabolism that usually manifests as recurrent joint pain. It can be triggered by consumption of high-purine food and alcohol and low water intake," Tsai said.
Taiwan's incidence rate of gout is 8 percent for men and 2 percent for women, and the numbers have been on the rise, Tsai said, citing statistics from the National Health Research Institutes.
"The trend of getting gout younger has also been observed in recent years," Tsai said.
Comments will be moderated. Keep comments relevant to the article. Remarks containing abusive and obscene language, personal attacks of any kind or promotion will be removed and the user banned. Final decision will be at the discretion of the Taipei Times.