Ko's decision over cultural director sparks criticism
Several of independent Taipei mayor-elect Ko Wen-je's (柯文哲) policy advisers, as well as selection committee members, protested and resigned as speculation surfaced that pop music producer Ni Chong-hua (倪重華) was chosen as Taipei City Government's Department of Cultural Affairs director.
"I was happy to accept the job as a member of the selection committee [for determining the cultural department director], thinking that I may speak for the public and choose a really good director," fashion designer Alice Wang (王艾莉), who serves on the committee, wrote in a Facebook message. "But the final result is very disappointing."
Wang said that among three finalists, Ni received only nine votes, while the other two received 13 and 11 votes.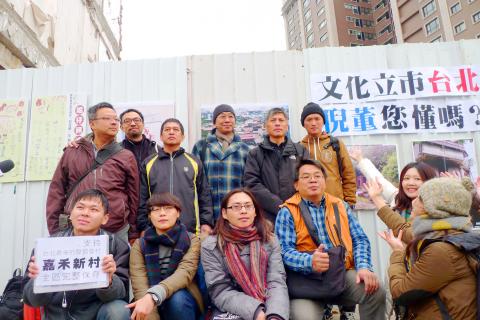 Representatives of several cultural groups yesterday pose with musician Ni Chung-hua, back row, third right. They asked Ni to pay attention to various cultural issues when he takes over the Taipei City Government's Department of Cultural Affairs next week.
Photo: Yu Pei-ju, Taipei Times
The other two final candidates were music critique Chang Tieh-chih (張鐵志) and Lan Yang Dancers chief executive Lee Ching-hui (李靜慧), but Wang did not clarify who garnered 13 and 11 votes.
She said she regrets that the best candidate did not win, accusing Ko of not respecting the committee members' decision.
"My job as a selection committee member ends here, but before Ko officially announces the director-to-be, I hope he can look more carefully [at the result]," Wang said.
She left the message early yesterday morning, following the rumor that Ni had been chosen to be the next Department of Cultural Affairs director.
However, Wang's remarks contradicted what she said prior to Ko's interview of the three finalists on Monday.
On Sunday, Wang said the committee — with full attendance — had chosen the three finalists for Ko to choose from, and rebutted accusations of non-transparency as "baseless."
"I wanted to say that each of the three candidates has his own expertise, so please give them some time, and refrain from criticizing the final winner, because it will scare away the person who really wants to do something," Wang said prior to the interview.
Wang was not the first to protest. Policy advisers Hu Yung-fen (胡永芬), Hsieh Tung-ning (謝東寧) and Yen Hung-ya (閻鴻亞) — a poet who also serves on the selection committee and is better known by his pseudonym Hung Hung (鴻鴻) — also protested and resigned as policy advisers.
In a Facebook message, Yen lashed out at Ko for choosing someone from the advertising and entertainment business over people from cultural fields, questioning Ni's ideas in cultural development and preservation of cultural heritage sites.
Despite the protests, the selection process was in accordance with previously announced regulations, which stipulate that the selection committee was to pick out three finalists, with Ko to make the final decision following interviews.
In related news, Ko's Department of Urban Development director-designate, Lin Jou-min (林洲民), responded to allegations that he works as an architect without a license by saying that "an architect's license is not required to serve as a department director."
Lin received a master's degree in architecture and urban design from Columbia University in New York, worked as an architect for 12 years in the city, owns his own architectural firm and has taken part in several urban design projects.
In addition, he has also won several architecture and urban design awards in Taiwan, the US and Germany.
He renounced his US citizenship to work in Ko's government.
Comments will be moderated. Keep comments relevant to the article. Remarks containing abusive and obscene language, personal attacks of any kind or promotion will be removed and the user banned. Final decision will be at the discretion of the Taipei Times.