Tourism Bureau has fun ways to ring in new year
The Tourism Bureau yesterday announced a series of festive New Year events running from the evening of Dec. 31 to the early morning of Jan. 1 across eight national scenic areas, where revelers can watch the last sunset of the year or ring in the new year watching its first sunrise.
According to the bureau, there will be exciting New Year's Eve events on Taiwan proper and the outlying islands.
An ideal place to watch the last sunset of the year would be the salt fields in the Southwest Coast Scenic Area, the bureau said. Here, visitors can watch the sun dip below the horizon as flocks of black-bellied terns flying across the sky, while enjoying a performance from the Ten Drum Art Percussion Group (謝十擊鼓樂團), it added.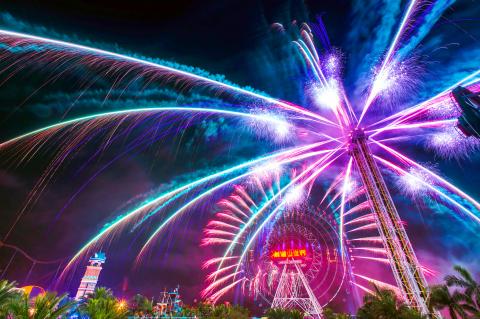 Fireworks illuminate Yunlin County's Janfusun Fancyworld theme park in an undated photograph.
Photo provided by Janfusun Fancyworld
People planning to stay up to greet the new year may consider going to Greater Taichung's Lishan District (梨山), where they can watch Aboriginal groups perform dances and taste local dishes, before going to Guguan (谷關) for a dip in a hot spring.
According to the Central Weather Bureau, the first sunrise of next year is to take place at 6:35am on Jan. 1 on Taiwan proper, with those living around Sansiantai (三仙台) in Taitung County and Longpan Park (龍蟠公園) in Kenting able see it first. Given this, the bureau said it has arranged celebratory events at both places.
For people heading to New Taipei City's Fulong Beach to celebrate, the bureau suggested that they take a special Taiwan Railways Administration service to get there, where a morning concert will be staged on the beach to welcome the new year.
Photographers prepare to capture the Taitung coastline in an undated photograph.
Photo courtesy of the East Coast National Scenic Area Administration
For people looking for different ways to greet the year, the bureau said they could choose to watch the first sunrise at the nation's lowest point in Erliao (二寮) in Greater Tainan, or run a road race beginning at a lighthouse in Juguang Township (莒光) in Matsu.
Meanwhile, the Ministry of Transportation and Communications yesterday announced the freeway toll-free hours for the New Year holiday: 11pm to 6am from Dec. 31 to Jan. 4.
To ease congestion on Freeway No. 5, the ministry said that large passenger buses are to have priority access to the freeway during the four-day holiday.
Comments will be moderated. Keep comments relevant to the article. Remarks containing abusive and obscene language, personal attacks of any kind or promotion will be removed and the user banned. Final decision will be at the discretion of the Taipei Times.