Disabled man seeks improvements
MOVIE BUFF: Chen Chun-han said he was drawn to legal studies after watching Andy Lau law films, and was an avid watcher of legal shows while at Harvard
Chen Chun-han (陳俊翰) — a recent graduate of Harvard University's School of Law and licensed to practice in New York — said he is fully aware of the difficulties that students with physical disabilities face and vowed to improve conditions for disabled students in Taiwan.
Recalling memories of his education, Chen said his condition — caused by the loss of function in his spinal anterior horn cells after he was diagnosed with spinal muscular atrophy at birth, and later having his legs amputated due to severe burns — kept him in hospital most of the time and he was unable to make friends like a normal child.
"Most of the time I was resting at home or was in hospital, which was in one sense my home," Chen said, adding that he would often start packing belongings to go home when his condition would worsen and he was forced to stay.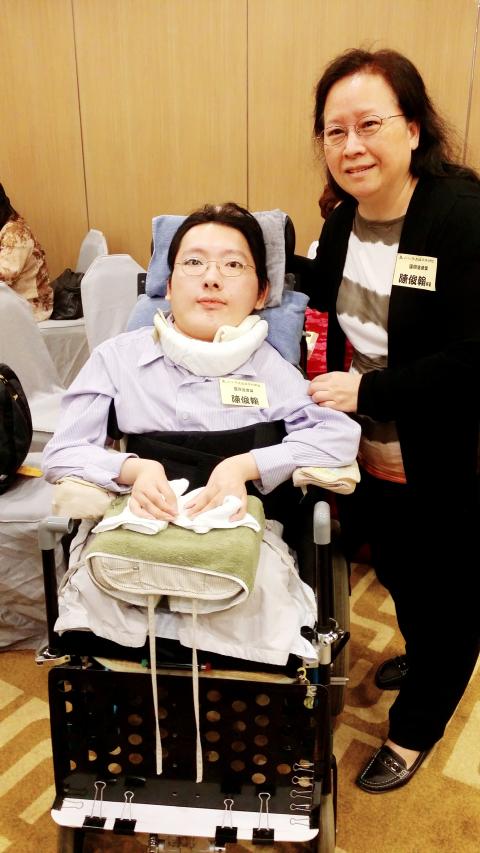 Chen Chun-han, left, attends an awards ceremony with his mother in Taipei on Nov. 22. Chen has vowed to improve conditions for disabled students.
Photo: Lin Hui-chin, Taipei Times
Despite his congenital condition and having two near-death experiences, once when a common cold turned into pneumonia when he was in the sixth grade of elementary school and once in college when an electric blanket he was using caught fire — causing severe burns and leading to the amputations — Chen has managed to maintain a positive outlook on life and is determined to fulfill his dreams.
Chen said he is an avid fan of American TV shows on legal matters, and had been especially touched by Hong Kong movies The Unwritten Law and The Truth, featuring Andy Lau (劉德華), adding that the two films were what motivated him to study law.
While studying at Harvard, Chen noticed the differences between services for disabled people in the US and Taiwan.
In Taiwan, disabled students have to request services and sometimes even force universities to offer help, Chen said, adding that by contrast, Harvard University actively told him what services and rights he is entitled to.
Using transportation as an example, National Taiwan University's bus for disabled people has a limit of two rides per day, forcing many students with physical limitations to find other means of getting around, Chen's mother said, adding that when her son studied at Harvard University there was no limit on transportation and the bus would be in service even if only one person was using it.
Taiwan has yet to develop a friendly system for students with physical disabilities, and such rights need to be fought for and not overlooked, Chen said.
Comments will be moderated. Keep comments relevant to the article. Remarks containing abusive and obscene language, personal attacks of any kind or promotion will be removed and the user banned. Final decision will be at the discretion of the Taipei Times.