Ministry blasted over proposed regulations for foreign caregivers
Several civic groups yesterday blasted a plan by the Ministry of Labor to relax application regulations for foreign caretakers, saying that the move could jeopardize efforts to establish long-term public care services.
A proposal that would effectively allow all families with members over the age of 85 to apply for foreign caretakers has drawn criticism from a wide spectrum of advocacy groups, ranging from labor rights groups to advocates for elderly people.
An increased reliance on foreign caretakers from Southeast Asian nations runs contrary to the Ministry of Health and Welfare's goal to establish domestic, community-based long-term care services, the groups said.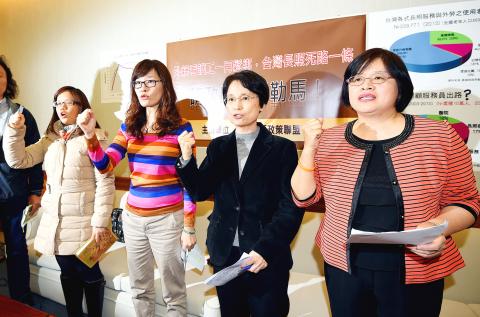 Universal Care Policy Alliance convener Liu Yu-hsiu, second right, and other activists gesture at a press conference in Taipei yesterday.
Photo: Fang Pin-chao, Taipei Times
"Our government seems deranged and has conflicting policies," Universal Care Policy Alliance convener Liu Yu-hsiu (劉毓秀) said. "If the government ignores our protests, we will be sure to take further action and pelt the Ministry of Labor with eggs."
Despite government claims that foreign caretakers could alleviate the burden on housewives and create an increase in the female workforce, women's rights advocates say the initiative would reduce employment opportunities among working-class women.
"Besides taking care of senior citizens, foreign caretakers are also sent around their neighborhoods to handle all sorts of household chores," alliance spokesperson Lin Lu-hung (林綠紅) said. "Since they work around the clock, one foreign caretaker can handle the workload of three maids."
The initiative is contrary to current research on long-term care, which suggests that elderly people with minor disabilities should be given only minimal assistance, Liu said.
"When you hire a foreign caretaker to take care of all the daily chores for elderly people, their ability to take care of themselves deteriorates at an alarming rate," she said.
"Our goal as a nation should be longevity accompanied by health, not bedridden longevity," Liu said.
Women's rights advocate Ho Bih-jen (何碧真) warned against reliance on foreign workers, saying that each increase was "irreversible."
"Hiring cheap migrant workers is like using morphine; companies get addicted and never turn back," Ho said. "Low wages and abysmal labor conditions for migrant workers have given Taiwan a bad reputation as a nation that places little importance on human rights."
In response to the groups, the Ministry of Labor said representatives from the Ministry of Health and Welfare were present when the decision to increase migrant workers was made, adding that the issue would undergo further evaluation.
Comments will be moderated. Keep comments relevant to the article. Remarks containing abusive and obscene language, personal attacks of any kind or promotion will be removed and the user banned. Final decision will be at the discretion of the Taipei Times.