MRT, gondola artwork aimed at providing light relief
HUMOR: With the success of the Hello Kitty theme for the Maokong Gondola, the TRTC is keeping the character on, while introducing comic artwork on MRT platform gates
Transportation authorities say they are hoping that an extension of the contract to use Hello Kitty images on Taipei's Maokong Gondola, as well as new digitally accessible pictures on the Mass Rapid Transit system's security gates, will help to boost ridership and increase the fun factor for passengers.
The Taipei Rapid Transit Corp (TRTC) in December last year introduced Hello Kitty-themed cable cars to the Maokong Gondola in a bid to increase the popularity of a line that has bled money for years.
The company not only painted the gondolas' exteriors with Hello Kitty imagery, but also put up avatars of the icon and related products around the information center and the entrance.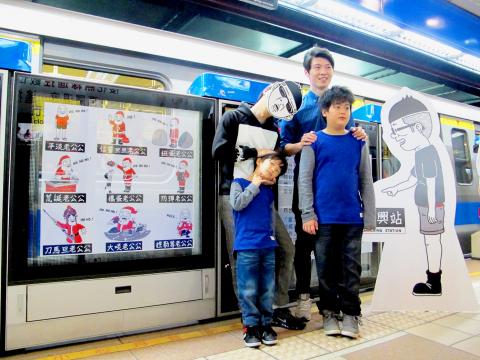 People in a station on the Taipei Mass Rapid Transit system's Songshan Line stand next to a security gate decorated with Santa Claus cartoons on Thursday.
Photo: Hsieh Chia-chun, Taipei Times
According to the TRTC, from the beginning of the year through to the end of October, the Maokong Gondola has seen an increase of 530,000 rides, for a total of 2.7 million rides during the period.
The company said it has extended its contract with the Taiwanese representative of Sanrio — the Japanese maker Hello Kitty products — until May 5 next year.
The company has begun selling multiple products in the run-up to Christmas, including Christmas-themed EasyCards, lunch boxes and thermos cups. The sales will continue through Jan. 4.
The company said it is also offering surprise gift items for sale on a weekly basis, such as prismatic stickers, postcards, envelopes and other items.
Meanwhile, the TRTC said it hopes to offer some light relief to MRT passengers waiting for trains through recently decorated security gates on Songshan line platforms that feature work from renowned illustrators, such as Duncan and byebyechuchu.
One of the drawings, titled the Mundane Affairs of Taipei (台北大小事), features a white-collar worker thinking to himself: "I tell myself every Monday, that the day after the day after tomorrow is another Friday."
Another illustration features another worker saying: "I'm dog-tired," while beside him, a puppy chews its dinner with a thought bubble indicating that it is thinking: "I'm not tired at all."
The company said that passengers could scan QR codes on the gates to gain access to a Web site in which they can fill in their own feelings and thoughts for the speech bubbles.
It should help provide an additional distraction during the wait for a train, the company said.
Comments will be moderated. Keep comments relevant to the article. Remarks containing abusive and obscene language, personal attacks of any kind or promotion will be removed and the user banned. Final decision will be at the discretion of the Taipei Times.