Taroko race sponsors lambasted
NOT BY A LONG RUN: Environmental activists said the firm they describe as an 'atrocious' abuser of the land and Aboriginal residents is the wrong financial backer
Environmental protection groups yesterday criticized the decision to allow Asia Cement Corp to sponsor this year's Taroko Gorge Marathon, saying that the company has wreaked havoc on the area that is now Taroko National Park with its granite mining since the 1950s, and "plundered" numerous plots of land reserved for Aborigines.
The Wild At Heart Legal Defense Association and Citizen of the Earth, Taiwan criticized Hualien County Commissioner Fu Kun-chi (傅崑萁) for allowing the race to be called "The Asia Cement-Far Eastern Taroko Gorge Marathon," given what activists said was the company's atrocious record of treatment of the Truku people and the environment.
The marathon, organized by the Hualien County Government, is to take place on Dec. 13. Far Eastern Group subsidiary Asia Cement is the main sponsor.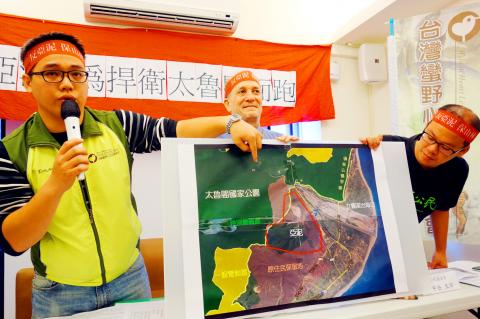 Environmental activists yesterday hold a news conference in Taipei to advocate against the Taroko Gorge Marathon set for Saturday next week that is sponsored by Asia Cement Corp, blasting what they called dishonest practices by the company.
Photo: Tsai Ying, Taipei Times
Association attorney Hsieh Meng-yu (謝孟羽) said the central government allocated 441 hectares of land to Asia Cement for mining operations, including 25 hectares that are now in the park's special scenic areas.
Mining has been conducted on numerous plots belonging to Aborigines, which had been farm plots before they were illegally leased to Asia Cement by the Sioulin Township (秀林) Office, he said.
The township office and Asia Cement had occupied Aborigines' land through subterfuge, signing land leases and later providing forged letters of renunciation to the Hualien Land Office, which cost residents their farming rights on 212 plots of land, Hsieh said.
Association founder Robin Winkler (文魯彬) said mining has left the mountains riddled with holes and that — while Asia Cement has done some restoration work — the natural landscape will never be restored to its former glory.
Citizen of the Earth member Tsai Chung-yueh (蔡中岳) called on the Environmental Protection Administration to evaluate the firm's activities with an environmental impact assessment (EIA).
The company has never undergone an EIA, even though the Environmental Impact Assessment Act (環境影響評估法) was amended in 1998 to regulate mining in national parks and on land reserved for Aborigines, Tsai added.
The groups demanded that the Hualien County Government immediately restore the land to the Truku Aborgines and urged park administrators to bar any further mining.
They also called for Article 47 of the Mining Act (礦業法) to be abolished, saying it created a loophole for the company to engage in continuous mining since it first leased the land under dispute in 1974.
The article stipulates that mining companies may use an area of land on which they have gained mining rights after settling any disputes with landowners and interested parties through compensation, rent or property transactions.
Toroko National Park Deputy Director Chang Teng-wen (張登文) said the Executive Yuan in 1995 approved a request by Asia Cement to mine in the park, and its right to mine was granted by the Bureau of Mines.
A Bureau of Mines official who declined to be named said that mining in national parks is banned by law, but Asia Cement is a "special case."
He said amending the law should occur only when authorities deem it applicable to all legally bound parties, not just in an individual case, such as that of Asia Cement.
Meanwhile, a Hualien Indigenous Peoples Department staffer confirmed that the department approved Asia Cement's lease of land for mining, but declined to discuss how much has been leased and how much falls within the boundaries of the park.
Comments will be moderated. Keep comments relevant to the article. Remarks containing abusive and obscene language, personal attacks of any kind or promotion will be removed and the user banned. Final decision will be at the discretion of the Taipei Times.