Ex-freeway toll collectors protest Cabinet decisions
Former freeway toll collectors and their supporters yesterday blasted President Ma Ying-jeou's (馬英九) decision to have Vice Premier Mao Chi-kuo (毛治國) take the reins as premier following the Chinese Nationalist Party's (KMT) drubbing in the nine-in-one elections on Saturday.
The ex-toll collectors — part of the about 1,000 people who lost their jobs after the January implementation of the electronic tollway collection system — also expressed their outrage at widespread media speculation that Minister of Transportation and Communications Yeh Kuang-shih (葉匡時) would keep his post amid the Cabinet reshuffle.
"Since Mao was transportation minister for five years [from 2008 to last year], he should also take responsibility for the toll collectors' plight," labor rights activist Kuo Kuan-chun (郭冠均) said.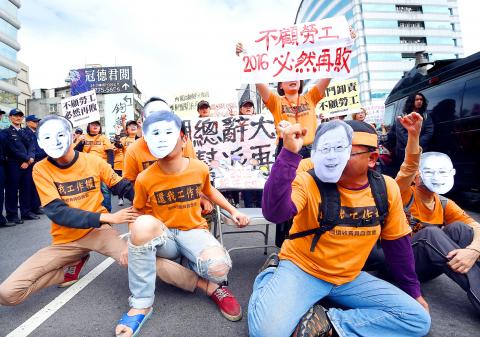 Laid-off freeway toll collectors yesterday perform a skit during a protest outside the Chinese Nationalist Party's (KMT) headquarters in Taipei, calling on the KMT to pay attention to their rights.
Photo: Fang Pin-chao, Taipei Times
"We can clearly see that the resignation of the Cabinet was a total fraud and that the government is lacking in its resolve to enact reforms," Kuo added.
Hours before media reports of Mao's promotion to replace Premier Jiang Yi-huah (江宜樺) were confirmed by the Presidential Office last evening, the laid-off toll collectors staged a demonstration outside KMT headquarters in Taipei to protest against his possible appointment.
Clad in their signature T-shirts, the group shouted slogans and raised banners outside the building over the heads of dozens of police officers, as Ma announced his resignation as KMT chairman inside.
"The fundamental reason behind the KMT's loss [in the polls] is that it handled policies concerning people's livelihoods and workers' rights in an arrogant, careless manner," Kuo said. "If the party does not address these issues, it is certain to suffer another defeat in 2016 [in the presidential and legislative elections]."
Labor rights activist Betty Chen (陳容柔) reiterated the former toll collectors' demand for full severance packages in accordance with their years in service, instead of the fixed seven-month severance package proposed by the ministry.
"Many of the toll collectors cannot receive their rightful severance packages, since they were classified as contract or part-time employees," Chen said. "However, these people have worked as toll collectors for nearly two decades. By classifying them as contract employees, the government is taking the lead in violating labor regulations."
The former toll collectors are also demanding partial compensation for their labor insurance pensions, as their new job opportunities might grant them lower salaries, Chen said.
The group staged a surprise demonstration outside Yeh's residence last evening, urging the minister to face their demands.
Comments will be moderated. Keep comments relevant to the article. Remarks containing abusive and obscene language, personal attacks of any kind or promotion will be removed and the user banned. Final decision will be at the discretion of the Taipei Times.