FEATURE: Local pair examine Chernobyl's lasting reach in visit to Belarusian border area
Two 27-year-old Taiwanese who visited a protected region in Belarus alongside the Chernobyl Exclusion Zone in July — armed with pen and paper, cameras and equipment to detect radiation — said that they hope Taiwanese reading their stories on the determination of Belarusians to return to their homes would be inspired to enact change in Taiwan.
Liao Yun-chieh (廖芸婕) and Lin Lung-yin (林龍吟) visited southeastern Belarus, along the border with Ukraine — the site of the 1986 Chernobyl nuclear power plant disaster. The duo recorded stories of how residents who have returned to the region are determined to live in their homes despite government regulations and possible contamination.
Liao said the Belarusian government established an exclusion zone in the region closest to Chernobyl, closing it off from residency and farming due to potential radioactive contamination, adding visitors' access is also severely restricted.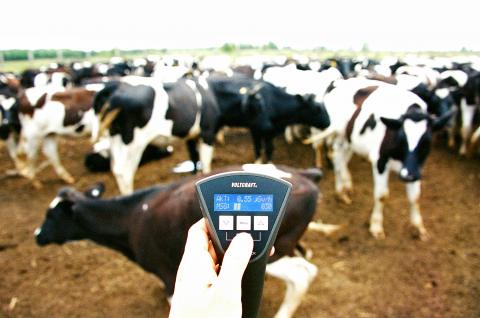 Lin Lung-yin uses a Geiger counter to measure radiation on a dairy farm in southeastern Belarus in an undated photograph. The gamma radiation count was 50 times as high as in the capital city, Minsk.
Photo: Courtesy of Lin Lung-yin and Liao Yun-chieh
In the absence of human activities, the region has reverted to nature and is a haven for wild animals, but in recent years, former residents who were forcibly relocated have slowly returned.
The pair's efforts to document the lives of returnees is not about ideological support for or opposition to nuclear power, but rather examines the conflicts and hardships of survival that most people do not see in the wake of the disaster itself, Liao said.
The pair raised funds for their trip through the WeReport platform and were guided through the region by local nongovernmental organizations.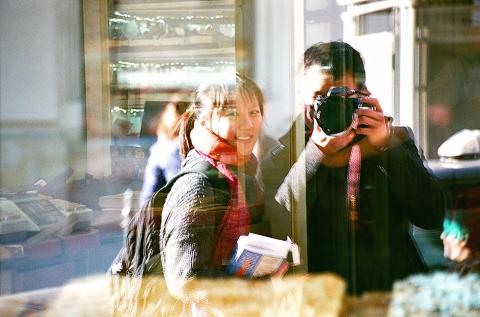 Lin Lung-yin, right, takes a photograph of himself and Liao Yun-chieh as reflected in a shop window in Belarus in an undated photograph.
Photo: Courtesy of Liao Yun-chieh
Recounting walking through the empty borderlands, Liao said that a gust of wind from Chernobyl made the radiation meter on her equipment instantly spike, though readings remained within acceptable boundaries.
While it is evident that there is still significant remaining radioactivity, more danger lies in the attitudes toward the initial disaster held by the Belarusian government, Liao said.
The lack of information on the incident — a product of government reticence, alongside the flagging press freedom in the region, the bland subjugation of residents' rights and the misrepresentation of the effects of radioactivity are truly shocking, Liao added.
Most people who are gradually returning had been relocated since 1986 and are elderly, Liao said, adding that their love for their homes had motivated them to return, rebuild and replant.
Pointing to brightly colored raspberries growing outside refurbished homes, Liao said that when these men and women die, no one would have any memories of them, but added that she hoped to document their stories while she can.
"In two or three decades, I can at least look back on my life and say I have done something," Liao said.
Liao said that her story was not an attempt to judge Belarus nor to give an answer on such incidents, but rather to record the inherent paradox and conflict such incidents contain.
"We hope that the documentary project acts as a catalyst to deeper talks and reflection on such issues," Liao said, adding that with such limited building space in Taiwan, the matter of nuclear power should be considered more carefully and warranted in-depth research.
"We also hope that the documentary could inspire Taiwanese to examine international incidents and contrast them — or the way they are treated abroad — with policies and plans in Taiwan itself," Liao said.
Speculating about effects on the nation after a potential nuclear power-related catastrophe, Liao said that while many might consider Taiwan under those conditions to be a "ghost island" — meaning that only ghosts would inhabit the landscape — and move away, people actually find it hard to uproot themselves and leave their homes.
"Many things are not in black-and-white absolutes and if we can just see the struggles, the conflicts and the inherent human emotions within such issues, we would become more flexible in our thinking on the issue and find an answer that we are most satisfied with," Liao said.
Comments will be moderated. Keep comments relevant to the article. Remarks containing abusive and obscene language, personal attacks of any kind or promotion will be removed and the user banned. Final decision will be at the discretion of the Taipei Times.