Nation welcomes 9 millionth visitor
The nation's 9 millionth international visitor for the year arrived at Taiwan Taoyuan International Airport at 3:45pm yesterday, and was greeted by a lion dance performance and showered with gifts by the Tourism Bureau.
Hong Konger Lo Tak-pui (羅迪標), 67, arrived with his son and daughter. Lo's son said he and his sister decided to come because friends had spoken about their interesting travel experiences in the nation.
However, Lo's son said they did not expect their father would be the nation's 9 millionth international visitor.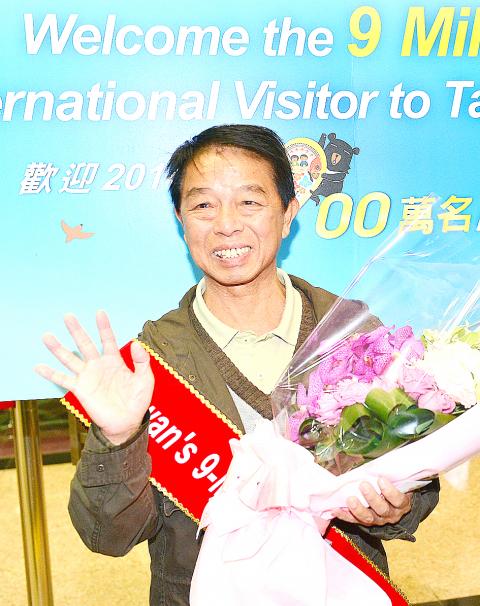 Hong Kong resident Lo Tak-pui is welcomed at Taiwan Taoyuan International Airport yesterday as Taiwan's 9 millionth international visitor this year.
Photo: Yao Chieh-hsiu, Taipei Times
The three also said that they were excited about their trip and wanted to try some famous Taiwanese snacks.
Lo will also attend a welcome ceremony hosted by the Tourism Bureau today.
The number of visitors reached the 8 million mark last year.
Tourism Bureau Deputy Director-General Chang Hsi-tsung (張錫聰) attributed the increase in international visitors to effective tourism strategies highlighting the nation's cultural and environmental diversity, making the nation globally recognizable.
"Because of the flexible promotional campaigns launched in the bureau's offices overseas, Taiwan has been able to gain the attention and the trust of international visitors, who are willing to come to Taiwan and experience the nation's uniqueness themselves," Chang said.
He said that most of the international tourists were impressed by Taiwanese friendliness and passion.
"The people of Taiwan serve as tourism ambassadors, whether they are leading the way for travelers who get lost, helping them find lost items or even offering them a cup of hot tea in the winter. All these things have made many international travelers fall in love with Taiwan," he said.
Comments will be moderated. Keep comments relevant to the article. Remarks containing abusive and obscene language, personal attacks of any kind or promotion will be removed and the user banned. Final decision will be at the discretion of the Taipei Times.