Watchdog unveils updated legislative monitoring app
Legislative watchdog Citizen Congress Watch (CCW) yesterday called on the public to monitor legislative action with an improved version of its mobile app, Congress Online.
The revamped app, Congress Online 2, boasts many new features from its previous version, allowing users to watch live broadcasts of meetings at the legislature, while retaining functions such as access to legislators' attendance records, updates on the latest legislative agenda and contact information for all 113 offices of legislators nationwide, the group said.
The group, which has published evaluations on the performance of legislators twice a year since 2008, said the app can help voters make better decisions during legislative elections.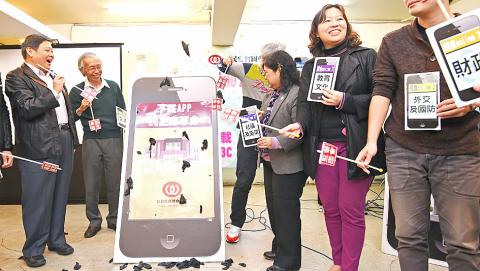 Citizen Congress Watch members announce the launch of the group's upgraded Congress Online 2 mobile application at a press conference in Taipei yesterday.
Photo: Liu Hsin-de, Taipei Times
CCW executive director Chang Hung-lin (張宏林) said that the nine-in-one elections on Saturday last week were notable for a surge in participation by young people and the use of new campaign tactics that utilized technology and social media.
Digital-based forms of political participation provided a breath of fresh air from traditional campaign strategies, which are geared toward mobilizing voters through familial ties or local political factions, Chang said.
"New media tools are destined to become an important channel to rally the public and play a crucial role in the future of policymaking," he said, adding that the app would enable users to effectively "occupy" the legislature with their mobile devices.
The group has a goal of 15,000 downloads of the app by the end of the year.
"Mr Lin From Taipei" (台北林先生), the spokesperson for the Appendectomy Project — a campaign to recall three Chinese Nationalist Party (KMT) legislators — expressed support for the app, saying that it can be used to identify incompetent legislators.
Comments will be moderated. Keep comments relevant to the article. Remarks containing abusive and obscene language, personal attacks of any kind or promotion will be removed and the user banned. Final decision will be at the discretion of the Taipei Times.