Military lauds its domestically developed missiles
In a display of the nation's defense capabilities, the military yesterday presented two of its creations — the Hsiung Feng-3 ("Brave Wind-3") and Tien Kung-3 ("Sky Bow-3") missile systems — which were developed by the Chung Shan Institute of Science and Technology.
Much of the attention yesterday focused on the Hsiung Feng-3, said to be among the most advanced antiship missiles in the world and touted as an "aircraft-carrier killer."
The institute, which is the nation's top research and development center and is affiliated with the Ministry of National Defense, demonstrated the missiles' performance and effectiveness by showing videos of successful operational testing — launching, guided flight and hitting targets with precision.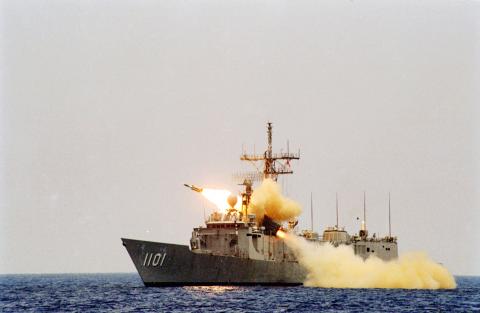 A Hsiung Feng-3 missile is launched from the ROCS Cheng Kung in an undated photograph provided by the Chung Shan Institute of Science and Technology.
Photo: CNA, courtesy of Chung Shan Institute of Science and Technology
"Hsiung Feng-3 is an upgrade from the previous generation. It is faster, traveling at supersonic speed, and more powerful than Hsiung Feng-2, and therefore is our most effective antiship missile yet, with greater penetration power against enemy vessels," said Bruce Chou (周勝男), chief engineer of the Hsiung-Feng development program at the institute.
Chou said that to produce the Hsiung Feng-3's higher velocity and power, the engineers had to deal with and overcome problems involving heat dissipation, trans-sonic vibration, material strength and other issues.
Previously, the "aircraft carrier killer" was thought to be capable of Mach 2 velocity and a range of 130km.
However, officials and defense experts said the advanced missile could be capable of Mach 2.5 to 3 velocity and have a range exceeding 150km.
First unveiled in 2007, Hsiung Feng-3 is currently in production under the ministry's "Wind Chase" program.
The missile system is now deployed on the navy's Cheng Kung-class frigates and Ching Chiang-class patrol ships to engage intruding enemy vessels and protect the nation's territorial waters.
The institute also displayed mobile missile launchers for the Hsiung Feng-3, which contain four tubes each for firing four missiles consecutively.
The Hsiung Feng-3 was developed with the specific purpose of targeting Chinese navy surface vessels, including Sovremenny class destroyers and its new aircraft carrier.
Comments will be moderated. Keep comments relevant to the article. Remarks containing abusive and obscene language, personal attacks of any kind or promotion will be removed and the user banned. Final decision will be at the discretion of the Taipei Times.