Smooth transition takes top priority for Ko, Hau
Policy continuity was the main focus yesterday as Taipei mayor-elect Ko Wen-je (柯文哲) held his first official meeting with Taipei Mayor Hau Lung-bin (郝龍斌) of the Chinese Nationalist Party (KMT).
Ko, who ran as an independent in the pro-KMT stronghold of Taipei, won more than 57 percent of the vote in the election on Saturday last week, defeating Sean Lien (連勝文) of the KMT.
Ko will assume the office on Dec. 25.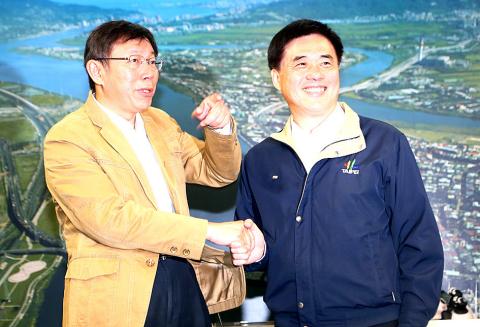 Taipei mayor-elect Ko Wen-je, left, and Taipei Mayor Hau Lung-bin shake hands yesterday at a meeting at the Taipei City Government to discuss the transition from Hau's administration to Ko's.
Photo: CNA
Hau yesterday was knocked over by jockeying cameramen in the blizzard of media attention which accompanied Ko's initial entrance into the city hall's mayoral suite.
Hau and Ko emerged after 40 minutes, announcing that Taipei Deputy Mayor Chen Yung-jen (陳永仁) and Ko's deputy mayor-designate, Teng Chia-chi (鄧家基), would serve as the point men for the transition.
"Preserving policy continuity is one of our basic policies," Ko said. "Good policies will be continued and no personnel changes will be made below the level of deputy commissioner."
Hau said he would provide Ko with relevant documentation and reasoning for any policy he requests. The city government has already drafted a set of 60 policies to include in the transition progress, he said.
Ko said that because he has not yet been able to look over the city governments' internal documents, there was a possibility that there had been "misunderstandings" about some of the Hau administration's policies, even in the case of the Taipei Twin Towers (雙子星) corruption case, for which Ko has promised to publicize all related meeting records.
In one adjustment of policy stance, Ko backed away from previous statements that he would remove a non-commissioned bus lane along Zhongxiao W Road soon after taking office, stating that the road might soon be needed in the city's traffic plans.
Ko also came out in support of Taipei's high-school admissions plan for next year, saying that it is too late to reopen the negotiations with New Taipei City required for any adjustments to the plan.
The plan has been a continuing source of tension between Taipei and the Ministry of Education, with the ministry refusing to accept the plan on Monday.
Meanwhile, at yesterday's city government meeting, Hau also announced that there would be no major new policies or budget revisions until after the transition is completed.
Comments will be moderated. Keep comments relevant to the article. Remarks containing abusive and obscene language, personal attacks of any kind or promotion will be removed and the user banned. Final decision will be at the discretion of the Taipei Times.